Malawi Vice-President Khumbo Kachali on Thursday told Parliament the K14.3 billion (about $57.2 million) MRA borrowed was illegal, but blamed Treasury officials who authorised the transaction, technically exonerating Finance Minister Ken Lipenga.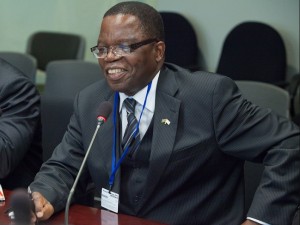 But Thyolo Thava MP Lifred Nawena took the Vice-President to task, asking him if his "conscience was clear" since he said there was proof that the then deputy Finance minister, Cornelius Mwalwanda, attended meetings that indicated that revenue targets were missed and Lipenga could not have feigned ignorance over the huge amounts that flowed later into Treasury.
Kachali said: "It is clear that the decision to borrow was illegal as it did not follow procedures and was taken by few senior technical officials in the Ministry of Finance and the Malawi Revenue Authority [MRA] without the prior knowledge, involvement of the Minister of Finance and [as] provided for in the Public Finance Management Act."
He said there was an atmosphere of fear and mistrust among officials perceived by others as having close contacts with the powers that those deemed to have negative views on any issue were sidelined.
"The Secretary to the Treasury, at that time, as principal finance adviser did not handle the issue in a professional and objective manner as one responsible to the Minister of Finance as provided in Public Finance Management Act, Section 7, sub-sections 1 and 2," said the Vice-President who chaired a four-member committee of Cabinet ministers tasked to investigate the matter.
Kachali said the committee has made recommendations to President Joyce Banda that will deter Treasury officials from making arbitrary and unilateral decisions.
"Unfortunately, this matter has cost the nation in two ways, the public image of government both locally and internationally and the amount of monies spent totalling K61 million [about $244 000] in servicing the loans," he said.
Kachali said the committee invited officials from the ministries of Finance and Economic Development, the MRA, the Reserve Bank of Malawi, Standard Bank, NBS Bank, as well as the former deputy minister of Finance and Balaka South MP George Nnensa, the whistle-blower.
He said on December 30 2011 MRA borrowed K3 billion from National Bank of Malawi, K2 billion from Standard Bank, K500 million from Indebank and K1 billion from Malawi Savings Bank (MSB) while on December 29 2011 they borrowed K500 million from FDH Bank.
The revenue authority went back to the banks on January 5 2012, borrowing K1 billion from National Bank, K1 billion from Standard Bank, K300 million from FDH Bank and K1 billion from NBS Bank. On January 3 2012 MRA borrowed another K3 billion from MSB.
According to the VP, all the loans were due to mature on 9 January 2012 and were fully paid by then.
The NBS Bank pegged interest at 12 percent per annum, while Standard Bank charged 19.75 percent per annum and the rest pegged their interest at 17 percent per annum.
"The total interest charged amounted K48 749 554.85 and in addition, two banks, namely, Indebank and Standard Bank had charged arrangement fees which amounted K12 077 625.57. This brought [the] total cost of borrowing to around K61 million," said Kachali.
Nnensa said it was impossible to believe that the minister was not aware of the shortfalls since Mwalwanda had attended a meeting on October 11 2011 and was told that all the targets were missed.
Leader of DPP in the House George Chaponda wanted to know if the then Secretary to Treasury Joseph Mwananvekha was heard and was in a conducive environment; to which Kachali said: "We even had dinner together."
Said Nawena: "It is very important not to take people for granted. Is there no total evidence that the minister was aware? Is the Vice-President's conscience clear that he has told the truth and absolute truth?"
Kachali said he believed what he presented and had no apologies to make.
Lipenga's deputy Ralph Jooma rushed to congratulate him, but the minister refused to comment on the outcome—that had many calling for his head.
Subscribe to our Youtube Channel: