The Malawi Communications Regulatory Authority (Macra) has received 30 broadcasting bids from various individuals and organisations for possible licensing.
Disclosing last Thursday, Macra's director of broadcasting Fegus Lipenga said the bids are few compared to 36 the authority last got.
He assured the bidders of professionalism in scruitinising the applications.  Out of 30 applicants, 14 are for television while the rest are for radio licences.
According to the application invitation, 'Äúthe authority conducted a research which indicated that there are some areas in Malawi which are undeserved in terms of broadcasting coverage.'ÄĚ
Applicants of the broadcasting licence include the Face of Malawi and the Department of Journalism and Media Studies of the Polytechnic, a constituent college of the University of Malawi, which is applying for a geographical community radio station.
Lipenga could not indicate when the results of the bid are expected, saying it is a long process.
'ÄúThe results will be ready when all things are done as there is a need to work with various stakeholders to avoid isuuing a licence to individuals or organisations who do not deserve,'ÄĚ said Lipenda.
By Mercy Malikwa (Nation Newspaper Writer)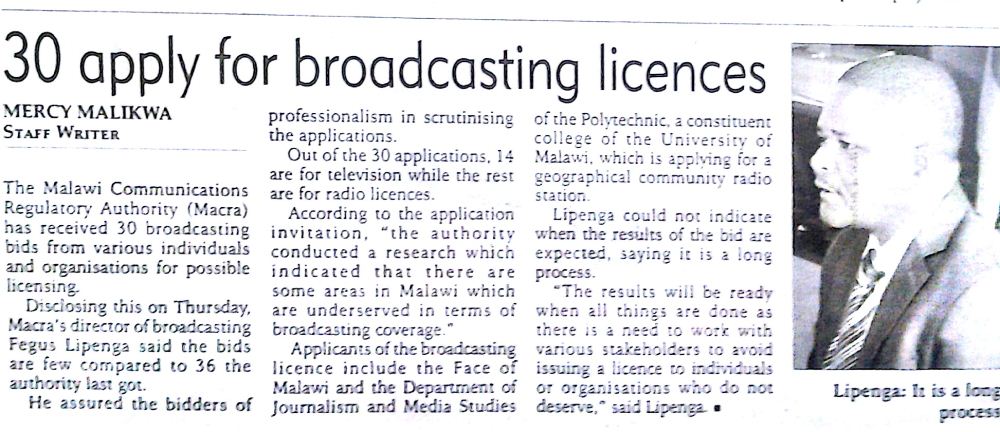 (Visited 3 times, 1 visits today)
Subscribe to our Youtube Channel :
Follow our Instagram