Notice
As a new year begins we would to thank our supporters for their continued enthusiasm showed towards FAME. As announced in the press and during KIA Fashion Malawi Edition in November 2012, this year FAME will organize Malawi Fashion Week.
To prevent any confusion, we would like to clarify that the recently announced fashion week organised by Dawa Loga Lemberger from Elegant Resources and Chikumbutso Mtumodzi from African Dzuwa is not a FAME event.
FAME and fashion in Malawi through the years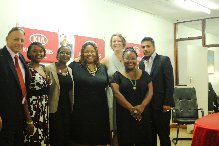 FAME was founded in 2010 by Zilanie Nyundo Gondwe and Inge Gondwe Knapen who were motivated by so much fashion talent but the lack of recognition for the fashion industry in Malawi.
FAME's mission is to inspire fashion designers in Malawi to forge forward, challenging misconceptions and breaking barriers by creating original designs that are exhibited in an annual evolving platform.
The first year FAME was privately funded by the founders. The second year FAME was sponsored by MIMETA until we found KIA motors to be our main sponsor.
The winning designer of FAME 2010, Lilly Alfonso has since received national and international recognition for her designs. The winning designer of FAME 2011 Clemoh Sato and 2012 winning designer Yavinde Nyasulu are both household names in Malawi.
In 2011, the quality of the designs exhibited at FAME had improved tremendously. By attending the Fashion Show as guest of honor, the First Lady recognized FAME and its involvement in the fashion industry. The First Lady's Personal Designer, Frederick Eboka from South Africa was the first international designer hosted by FAME. His expertise in the fashion industry gave FAME valuable information on taking fashion in Malawi to the next level.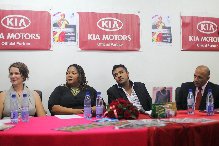 In 2012, FAME partnered with KIA Motors (HTD) to establish KIA Fashion Malawi Edition. In that year there was a noticeable change in the level of interest Malawians had started to show in fashion. FAME recruited and trained our highest number of models since 2010 and received an overwhelming response from designers wishing to participate in the show. We were honored to work with Paledi Segapo of PALSE HOMME from South Africa and Peggy Onyango of Peggy O from Kenya.
Malawi Fashion Week in 2013 held by FAME will include workshops, trainings and a variety of Fashion Shows.
Over the years FAME has supported the fashion industry at grassroots level by financing the training of student designers from Don Bosco Technical College and Samalani Youth Centre in partnership with Rosa Mark.  In 2013 FAME will financially support tailoring students in Chinsapo in collaboration with WITTEE. Furthermore FAME will financially support FAWEMA in 2013.
FAME partners introduced
Zilanie Gondwe Nyundo (Co-founder & Creative Director), is the creative force and spearhead behind FAME. She has committed herself to promoting and uplifting women through the arts. Her agency, Blackmore Creatives, both designs new platforms and supports existing arts initiatives.
zilanie@fame.mw
Maria Thundu (Style Director) is the eye that brings Malawian fashion to the fore and captures it forever in print. Through her company Mars Photography, a new level of excellence and flair is brought to Photography in Malawi. Drawing inspiration from her work in Thailand, Kenya and Ethiopia, she adds vibrancy, colour and depth to her pictures.
maria@fame.mw
Tara Kachipande Thindwa (Art Director) is a freelance graphic design professional and co-founder of T&T Design Studio. Holding a Bachelor of Fine Arts in Visual Communication, her background in fine art has helped her to pay attention to detail when it comes to graphic design and fashion, understanding the importance of speaking to one's audience using color, balance and typography.
tara@fame.mw
Eveline Sibindi Van Dam (Financial & Event Director).  She is an entrepreneurial business woman, who established the successful Madidi Lodge. Holding a Bachelor in Events Management gives her the  opportunity to combine business skills, creativity and her love for fashion in FAME.
eveline@fame.mw
Inge Gondwe Knapen (Co-founder) Inge laid the foundation for Fashion Malawi Edition in 2010 together with Zilanie, powered by so much talent in fashion designing and passionate about developing Malawi. Inge is now an advisor for FAME and is in charge of international relationships. With a masters in business economics and business administration, Inge has successfully run her own art gallery in The Netherlands for over 6 years. She has been a business consultant for over a decade setting up new ventures in several industries in Africa, North America and Europe.
(Visited 65 times, 1 visits today)