Thokozile "Thoko" is a TB-HIV advocate from Malawi who works for the Malawi Interfaith AIDS Association (MIAA). I work with local faith-based organizations and support groups for people living with HIV and TB.
For Thoko, the fight against TB and HIV is a personal one: Thoko lost both her mother and father and her younger brother to TB and HIV in the years before the Global Fund to Fight HIV/AIDS, TB and Malaria was created. Thoko speaks about the tremendous impact this has had on her family, socially and economically.
Thoko has worked in the fight against TB and HIV internationally having represented communities on the Stop TB Working Group on New Tools and Diagnostics since 2010 and recently was appointed the Alternate Member to the Global Fund Board on behalf of the Communities Delegation.
As a Here I Am Ambassador, Thoko is committed to spreading the word about the need to fully-fund the Global Fund and continue to build on the momentum of prevention and treatment coverage the Fund has helped create since its inception in 2002.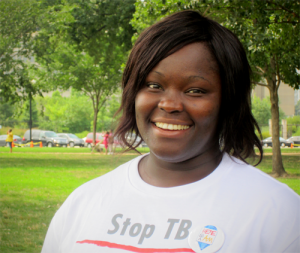 Subscribe to our Youtube Channel: