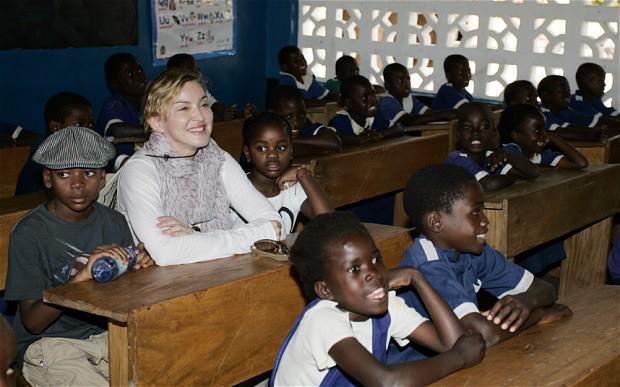 MADONNA IN MALAWI WITH DAVID AND MERCY
The pop superstar, who has adopted two children from the African nation, flew in to the country on Easter Sunday (31Mar13) and spent the day visiting orphanages in the capital city Lilongwe.
She also plans to visit the 10 schools which have been constructed by the BuildOn organisation in conjunction with her Raising Malawi charity.
The education facilities have now reportedly opened and Madonna will be visiting students there during her trip.
Trevor Nielson, who has been working with Madonna on the charity project, tells Afp, "We are coming to visit the 10 schools that she recently finished building with an organisation called BuildOn. Those schools which are now open and operating are serving 3,800 students."
The visit comes following criticism of the project by Malawi's Education Minister Eunice Kazembe, who claimed the singer's contribution had been exaggerated as the buildings were merely additional classroom blocks rather than whole schools.
Nielson adds, "There's no controversy, the schools are built to the exact national standards of Malawi, like every other Malawian school. The bottom line is that 3,800 children are going to school now who were not going to school before."
Madonna previously abandoned plans to build a multi-million dollar academy for girls in the country amid allegations of financial mismanagement at her charity. The project's collapse led to the dismissal of the foundation's board of directors.
She has been accompanied on the trip by her two adopted children, David and Mercy.