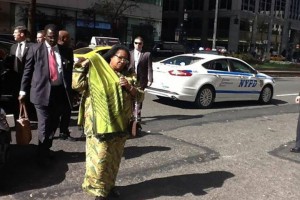 At first, it was at the arrival of the state President from the US where the first couple had gone together for the UN General Assembly. It was only the state President who arrived at Chileka airport. Even at the subsequent press briefing held at Sanjika palace, the first gentleman was nowhere near.
Now, a week after President Banda arrived into the country and making many public visits that can span over a month for an austerity minded President, the first gentleman who has always been seen by the side of her leading wife has not been seen.
The state house is silent, the President herself – not new to discussing issues of her household in public – is silent as well. Nobody knows where the first gentleman is.
For now, people have started speculating. Some say the calm and composed retired Chief Justice of not only Malawi but also Swaziland had been angered by his beloved wife's decision to fire his 'homeboy', Ralph Kasambara, while worse still others say he is sick, bedridden at a hospital in South Africa.
FaceofMalawi just awaits for the statement from the state house or just the reappearing of the first gentleman in public events. The two made a beautiful couple that is missed from our daily lives.
Subscribe to our Youtube Channel: