The Supreme Court of Malawi on Monday faulted the High court ruling which kept former Justice and Constitutional Affairs Minister, Ralph Kasambara incarcerated. In the ruling, Justice Anaclet Chipeta quashed the lower court's ruling saying the State had not given good reason to keep Kasambara in prison. The Supreme Court also dismissed the condition which gave the State a 14 day extension within which which only the Seniour Deputy Registrar would examine Kasambara's sureties.
Kasambara's lawyers were pleased with the court ruling which they described as fair, and one which gives hope and confidence in the Malawi justice system. "We are happy that Kasambara is free. The State did not have evidence to deny Ralph Kasambara his freedom as he awaits trail."
Kasambara's bail conditions include surrendering his passport and any other ravel documents to the court, to report to Mzuzu Police Station on fornightley, a MWK500,000 cash bail bond for Kasambara and MWK200,000 cash for his two sureties.
Kasambara is one of the prime suspects in the attemted murder of Budget Director, Paul Mphwiyo who was shot three times in Lilongwe in September. It is widely believed that the shooting is connected to the "Cashgate" scandal that has rocked Joyce Banda's government.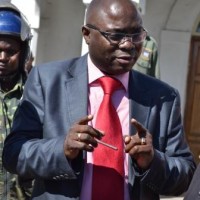 Subscribe to our Youtube Channel: