The year ends today, 2013 closes on this day, in hours time.
It has been revealed, however, that for the 365 days that were in the year, the state President has mostly been on the road elevating this and that chief or donating cows if not in some foreign lands.
According to a count conducted, the President was not on the road for not even half of the year. She was in office for 101 days, otherwise the rest of the days were spent outside the office.
Any wonder there was the cashgate scandal?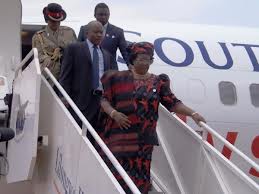 Subscribe to our Youtube Channel: