Frustrated with a spate of armed robberies and deep flaws in Malawi's criminal justice system, some people in this southern African country have decided to punish suspected criminals on their own volition.
Frustrated residents in Malawi's commercial city Blantyre have stoned to death and torched 3 people who were suspected of various armed robberies in one of the city's township, ndirande.
Last month, police officers at Kabula police unit in Malawi's commercial capital, Blantyre, used tear gas to disperse an angry mob armed with stones and man-made petrol bombs after officers refused to release two robbers from custody.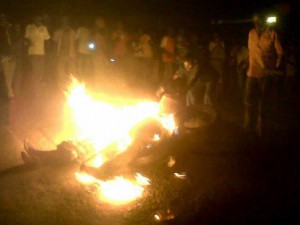 Statistics are difficult to come by, but many say Malawi has seen an increase in some types of crime in recent years. The Malawi Police Service claims that murder and robbery rates have risen since President Joyce Banda's administration invalidated a "shoot-to-kill" policy in 2012, which had allowed the police to gun down suspects caught committing a crime.
Subscribe to our Youtube Channel: