Relatives of 10 people who were shot in the 20 July demonstrations in Mzuzu have given the Malawi Police Service ,(MPS) a 90-days ultimatum demanding K3 billion as a compensation for the deaths.
The letter signed by the Families' Lawyer George Kanzipatike is addressed to the Inspector General of Police  Loti Dzonzi.
The letter dated March 20 2014 states that the Police acted unprofessionally in the shooting of 10 people hence are responsible for the compensation.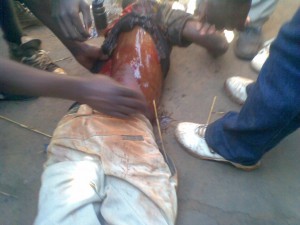 "The basis of our clients' demand are the provisions of Sections 3 and 4 of the statute Law (Miscellaneous Provisions) Act which provide that where a person be it natural or legal person, including the government has wrongfully  caused the death of another  person, the relatives of deceased person are entitled to claim damages from the person who has caused that wrongful deaths.
"We find the deaths of the aforementioned deceased persons wrongful and unlawful because the circumstances under which they were shot to death not comply with Section 30 of the Laws of Malawi", reads in part the letter.
When approached for comment, Dzonzi said he cannot comment anything because he has not received the letter.
The 10 people who were shot were identified as Abel Kanyenda, Chimwemwe Ngwira,Charles Chibambo, Kings Msuku, Mabvuto Banda, Timeyo Juba, Precious Juluka Kaunda, Samson Ngulube, Aaron Chitenje and Jacob Nyangali.
(Visited 16 times, 1 visits today)