South Africa's high court has overturned the murder and attempted murder convictions of famous rapper Molemo "Jub Jub" Maarohanye and his co-accused Themba Tshabalala.
The court convicted him of the lesser crime of culpable homicide, or manslaughter.
The pair was initially handed 20 years for murder.
Exceptionally their sentences were reduced to 10 years, two of which were suspended. The sentences would be backdated to October 2012, when the pair was first sentenced and jailed.
In 2012, a lower court convicted Maarohanye of murder and attempted murder after he killed four pupils and wounded two others while drag-racing.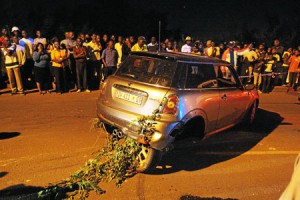 Maarohanye's lawyer Willie Vermeulen argued during the appeal that the musician had been on drugs on the day of the race, and did not have any intention to kill the children.
The high court seemed to accept the argument, saying the murder charges could not stand,South Africa's privately owned IOL news site reports..
The murder and attempted murder convictions of Maarohanye's co-accused, Themba Tshabalala, were also overturned.
Maarohanye was one of South Africa's best-known rappers, but fell from grace after smashing his car into the pupils in Johannesburg's Soweto Township in 2010.
(Visited 440 times, 1 visits today)