Malawi's hip-hop artist Tay Grin Saturday night won Best International African Act at the 2014 Black Entertainment Film Fashion Television and Arts (Beffta) Awards.
BEFFTA Awards is a distinctly special awards ceremony honouring the best showbiz and entertainment personalities in the black and ethnic communities in the UK, USA, Africa, Caribbean, Canada and globally.
BEFFTA Awards is the first of its kind rewarding under one roof outstanding achievements and contributions from Africans, Caribbeans and Asians in entertainment, film, fashion, television and arts. This international prestigious ceremony celebrates an all round accomplishments of a hard working community within entertainment and showbiz especially the unknown talent that need exposure.
The awards ceremony founded by Pauline Long also aims to inspire black and ethnic personalities worldwide to achieve at the highest levels. It provides a networking platform for industry personalities.
Tay Grin was nominated for Best International African Act and Best Music Video for his new song 'The Beach.'
In Best International Act category, he was up against continental music giants P-Square, Davido, Timaya, Zahara, Awilo Longomba, Dr Sid, Olamide, Sautisol and R2bees.
For "Best Video", he was facing the likes Mafikizolo for the video Khona, Jose Chameleon for Wale Wale, Mr Jayvic's I Love Africa and the remake of Pharrell Williams Happy (We're from Luton).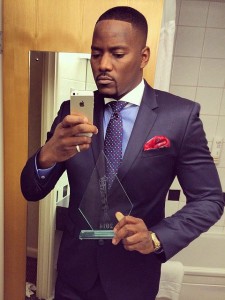 After scooping the award the artist further went to dedicate the award to his fans for their support.
"I would like to take this moment to thank everyone that took their time to vote. Your vote counted and together we've made history. This award is dedicated to you all," Tay Grin posted this on Facebook yesterday morning.
"Malawi we can all achieve, let's work together, strive for a better future and unite as one strong nation…!" said the artist.
Tay grin whose has a new album coming up is also expected to be in Dublin, Ireland, where he is billed to perform on 31 October alongside Pop Dogg.
Subscribe to our Youtube Channel: