Hong Kong is no stranger to prop-laden protests, but a particularly amusing one took place this weekend.
On Sunday, dozens of men wearing bras gathered outside a police station in the busy Wan Chai district of Hong Kong island. They were protesting a ruling issued last month by a Hong Kong court to imprison an activist on charges of assaulting a police officer with her breast during a protest in March. She was sentenced to three months and 15 days in jail.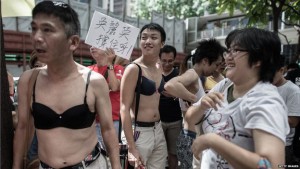 Footage of the incident shows her caught up in a tussle with police officers before being slammed to the ground and then rising with a bloodied face. The defendant, Ng Lai-ying, accused police inspector Chan Ka-po of touching her chest amid the scuffle.
The court rejected her claim. "You used your female identity to trump up the allegation that the officer had molested you. This is a malicious act," a deputy magistrate said at the hearing, according to CNN. The implication was that she had pushed her breast into him deliberately.
Protesters at the "breast walk" outside the police headquarters in Hong Kong on Sunday. (Philippe Lopes/AFP via Getty Images)
Outraged activists staged the "breast walk" to mock the court's decision.
"I believe we are all baffled as to how a breast attack works," Ng Cheuk-ling, an activist with the Hong Kong Women's Coalition on Equal Opportunities, told CNN.
"I think if anyone on this Earth treats the breasts of women as a weapon, it's totally outrageous," said well-known lawmaker and Beijing critic Leung Kwok-hung.
"The way I dress today looks quite ugly as a male," one man sporting a bra told the South China Morning Post, "but it is not as ugly as the judgment, which is like pointing at a deer and calling it a horse."
Protesters hold up bras during the demonstration.
(Visited 108 times, 1 visits today)