A woman's admission that the reason her food tasted disgusting was because she was using olive oil shower gel by mistake has swept social media.
Melony Jackson, who is believed to be American, confessed to her mistake in a funny post on Facebook, revealing that her bottle of Yves Rocher gel, which is emblazoned with pictures of olives, looked so like cooking oil that she had been adding it liberally to her cooking.
She posted on Facebook: 'I've thrown two saucepans away and nearly got rid of my dishwasher because my food kept tasting nasty.
'I'm not chef of the week': Woman's confession that her cooking tasted 'nasty' because she was using olive oil SHOWER GEL by mistake sweeps the internet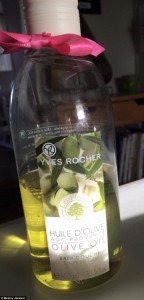 'Turns out what I thought was olive oil was olive oil shower gel.
'Chef of the week award is not mine.'
Her pal, who was tickled by her mix-up, then posted about it on Reddit , adding the picture of the beauty product in question, with the caption: 'My friend's food kept tasting funny.
'She bought new saucepans and was about to buy a new dishwasher, then I saw what she was cooking with.'
In the image, it is clear that the bottle is half-empty, meaning Melony must have been using it for a long time.
The $9 (£5.40) bottle of shower gel, which is on sale in the US and UK, comes with a pink bow around the neck, suggesting it was a present.
However if she had looked closer the label spells out that it is indeed for use in the shower with the words in French, 'bain douche', which is then translated underneath into 'shower gel'.
Karrachr000 noted that shower gel might not bubble but it would smell terrible if used for cooking
One poster was convinced this was a hoax by the Reddit user because they would have to be an 'idiot'
Golfrinserepeat said a friend's own cooking mishap involved using egg shells, thinking they were egg whites
Meeolu said his mother once cooked with washing up liquid and gave the family a stomach upset
Thousands of Reddit users couldn't resist the opportunity to poke fun at the woman's mistake, questioning where on earth she had bought the product as procuring anything from a toiletry section is usually a giveaway that the item is inedible.
But the main question for disbelieving users was how she didn't suffer any illness from swallowing soap for such a long period.
One user said: 'The person in this (obviously fictional) story threw out their pots and pans and was about to replace the dishwasher.
One poster was convinced this was a hoax by the Reddit user because they would have to be an 'idiot'
Meeolu said that accidentally cooking with washing up liquid gave the family diarrohea
Golfrinserepeat related a story about a friend who once made brownies with egg shells rather than egg whites
The woman was fooled by the colour and consistency of her shower gel into thinking it was the olive oil
'The bottle seems to have been used for months. If that was true, the person would actually be an idiot.'
Another pointed out it would burn in the pan and would 'stink.'
However some showed it was possible, sharing similar stories of cooking with items not intended for human consumption.
One user said: 'On an absent-minded Sunday, my mother once used dish washing liquid instead of oil.
'The consistency was actually very similar – so are the bottles. We had a laugh and diarrhea.'
A user called golfinserepeat added another tale of cooking ineptitude, posting: 'I know a woman who, when she was 22 or so, told me that she made brownies for her mother, the first time she tried to bake anything, and was so proud of herself.
'Her mom, upon tasting the brownies, asked her what the little crunchy sharp things were. She said 'Oh, that's the egg whites.'
'Yah, she thought egg whites were egg shells.'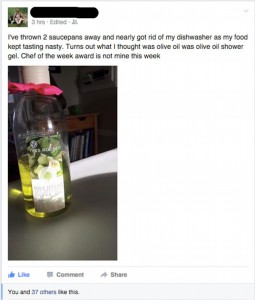 (Visited 63 times, 1 visits today)