The Electricity Supply Corporation of Malawi (ESCOM) has advised Malawians throughout the country that they will continue to experience frequent and prolonged load shedding "within the foreseeable future" due to insufficient generation capacity.
This has been disclosed in a Press Statement released on Sunday August 9, 2015 made available to FaceofMalawi.
According to the statement, the situation will be so due to the reduced water levels in Lake Malawi and the Shire River, which are the major sources of water for hydro power electricity generation in the country.
"The current water flow in the Shire as measured at Liwonde Barrage is 214 cubic meters per second (cumecs), against the total required discharge of 261 cumecs at Nkula, 274 cumecs at Tedzani and 268 cumecs at Kapichira Hydro Power Stations if all machines are running at full capacities. Projections are that the trend will continue to worsen to the end of the dry season at the onset of rains later in the year.
"In the current scenario, if these power Stations are not to run at a full capacity, it will mean fast depletion of water storage pond levels, a situation that is not desirable for sustained operations," reads in part the statement.
Escom says the situation has been culminated due to low rainfall in the past years.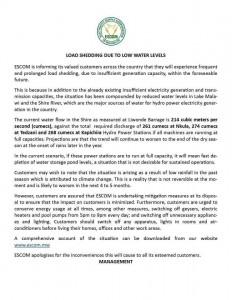 (Visited 24 times, 1 visits today)