A Chinese worker caught red handed with someone's wife….
With the ever increasing number of Chinese workers coming to work in Malawi was only a matter of time until they started dating and sexing our women. A picture released on social media by a renowned facebook group that goes by the name "Malawi Times" got mixed reactions today. The picture shows a Chinese man feeling on a woman named Grace who apparently is a married woman in the community. The husband got hold of the picture through a friend and sent it to us to shame this behavior potrayed by this Chinese man and also Grace is the pictures.
Instead of being ashamed you see the Chinese man is laughing: "Anthuwa alibe Mzimu watero wabaza pa Ntandire"
"Its only a matter of time until we see Malawian Bruce Lees walking around the nation" An online observer commented on the photos.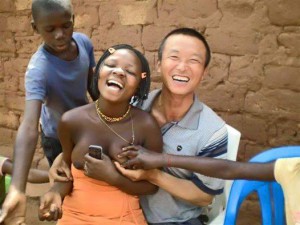 …
Subscribe to our Channel on Youtube: