A 14-year-old boy was arrested by police in Texas after a homemade clock he wanted to show his school teachers was mistaken for a bomb.
Ahmed Mohamed told US media that he had made a clock at home and brought it into MacArthur High School in Irving to show his engineering teacher.
Another teacher saw it and, concerned it looked like a bomb, alerted school authorities who called the police.
His father fears the incident happened because of his son's Muslim background.
The Council on American-Islamic Relations says it is investigating the incident.
There was a strong reaction to the story on social media.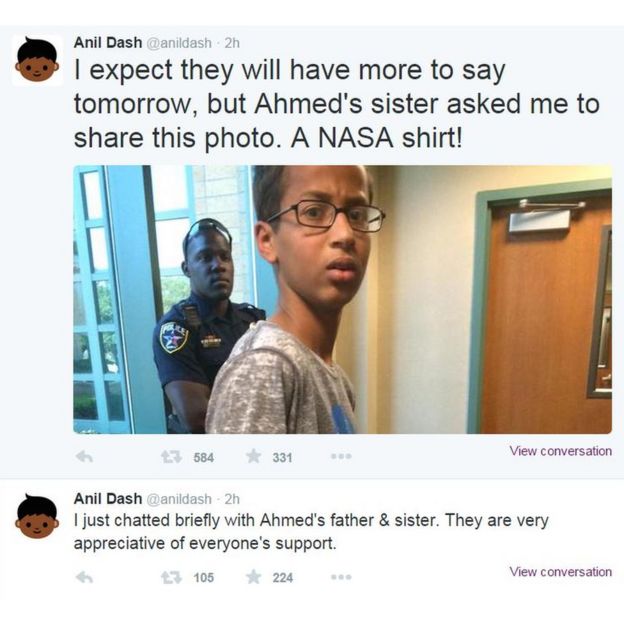 Ahmed Mohamed told the Dallas Morning News that he loved engineering and wanted to show his teachers what he could do.
He said his engineering teacher had congratulated him but advised him "not to show any other teachers".
The teenager said another teacher became aware of it when the device beeped during the lesson.
"She was like – it looks like a bomb," he said.
The homemade clock consisted of a circuit board with wires leading to a digital display.
Later in the day the boy was pulled out of class and interviewed by the school's headteachers and four police officers.
'Report suspicious items'
The Dallas paper said he was led out in handcuffs, put into juvenile detention and fingerprinted.
Police spokesman James McLellan said that, throughout the interview, Ahmed had maintained that he built only a clock.
The school has not commented on the case, but issued a statement saying it "always ask our students and staff to immediately report if they observe any suspicious items".
Ahmed's father Mohamed Elhassan Mohamed, who is originally from Sudan, said his son had been mistreated because of his name "and because of 11 September".
Alia Salem of the Council on American-Islamic Relations agreed: "This wouldn't even be a question if his name wasn't Ahmed Mohamed. He is an excited kid who is very bright and wants to share it with his teachers."
Subscribe to our Youtube Channel: