Leader and founder of the Enlightened Christian Gathering prophet Shepherd Bushiri has hit back at critics over his recent iPad video prophecy circulating on the social media, saying he really performed the miracle.
In the video titled Supernatural Capturing Photos in the Spirit, Bushiri is seen capturing an image of one of the congregants' daughter believed to have been attacked by an evil spirit.
The video has received criticism from all corners and others even took the issue on the social media (Facebook) branding it as fake and pre-arranged aiming at gaining popularity from his followers both local and International.
Reacting to the development, Bushiri threatened all critics with death.
"They are people you can attack but not me, am Prophet Shepherd Bushiri who speaks with God. I have been patient for with you but now, the power that works in me, will terminate you. You will know that I serve a Mighty God the one you are insulting," wrote Bushiri.
While insisting that he is a true prophet, Bushiri said he never chose to be a prophet.
"I was a muslim but Jesus appeared to me and sent me to go and preach what am preaching you are attacking???.
"May you see the results of the anger of God. You will die a sudden death," reads the statement.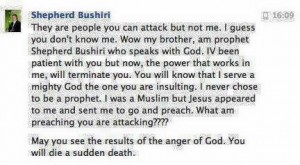 (Visited 28 times, 1 visits today)