Amber Rose took to the streets of Downtown Los Angeles on Saturday (Oct. 3) for her "Slut Walk."
In an effort to protest against slut-shaming and rape culture, the model/businesswoman gathered throngs of supporters to help bring the topic of women's inequality to the forefront. Taking to a stage to give her story, Amber recalled being slut-shamed by her two very famous exes: Kanye West and Wiz Khalifa. Making her first reference to West, Amber noted the rapper's now-infamous "30 showers" comment.
"Unfortunately, I was extremely slut shamed. I was called 'nothing but a stripper.' [He said] why would he ever be interested in me, I'm just a bald-head stripper from Philly," Amber said of West. "I was a golddigger; apparently he had to take 30 showers after being with me. That's what he said. I get that just washed all my sexy bald-headedness off of his ass."
Moving on to her marriage to Wiz Khalifa, Amber recalled feeling like the Pittsburgh rapper was a "ball of love" at the height of their relationship. She also noted that while the two are on better terms now and "still love each other," Wiz also made shrewd remarks regarding her past as a stripper, and she welled up in tears about the rapper's lyrics on Juicy J's "For Everybody."
"In the midst of being hurt – if anyone had been going through a separation, or have ever been divorced, you know there's a lot of feelings involved and it's a very difficult time," she explained. "He went on to make a song saying that he 'fell in love with a stripper, but fell out of love quicker.' As you can imagine, him being the love of my life, regardless if we're going through a separation or not, that was extremely hurtful."
While Amber admits that she received an apology from Wiz Khalifa, she publicly forgave both her ex-husband and West for their comments. She also encouraged her audience to do the same.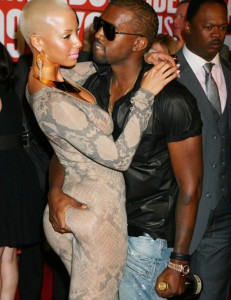 "I want to forgive Kanye for what he said about me. I want to let all that negativity go. I also forgive Wiz for what he said. Wiz actually apologized to me already, so I have forgiven him. I suggest that you guys do the same, and I'll tell you why: because they're ignorant at times. People are ignorant, and you have to be the bigger person, and be the positive person to forgive and move on and help other people around you that have been through the same thing."
Subscribe to our Youtube Channel: