Social media especially facebook and twitter has been a washed with photos of people pretending to be dead.
According to media reports, most of the people involved in this act are those from South Africa.
But not everyone approves of the #DeadPoseChallenge.
Recently, a distressing video of an hysterical toddler pulling at the body of a lifeless woman has gone viral as part of a grim online craze for posting pictures by people faking their own deaths.
The 20-second clip posted under the #DeadPose trend is the most shared addition to the macabre rage which is gripping social media in South Africa and has prompted a storm of outrage and morbid curiosity.
Karabo Mnisi, the teenage mastermind behind the campaign – which he insists is 'no different from the ice bucket challenge' – dismissed the backlash as 'missing the point'.

The mother of the distraught two year-old, who posted a 20 second clip of her child's distress as she attempts to rouse her inert aunt on the floor, also remained defiant in the face of calls for her to be prosecuted and lose custody of the girl.
'My baby was in on the joke,' Bontle Goitsimang insisted to MailOnline. 'She knew what was going on, she realised it was a joke, I think she is laughing more than crying. I was filming it, it was my sister on the floor, it was all planned. It was just a joke, a very quick joke. It is only fun, a small funny thing.'
High School student Karabo Mnisi, 19, who started the craze only a week ago has been inundated with pictures submitted by hundreds of online users adopting a variety of mortal poses.
Early examples were rather tame, he told MailOnline, with bodies twisted into awkward positions, free of any gore. More recent additions are increasingly graphic.
'We are now only in phase two of these posts,' he warned. 'The first phase showed no cuts, wounds or bloody, but now phase two includes people who are covered in blood, who have been violently killed.'
Off-cuts apparently from a butcher's shop feature in some of the latest, more graphic postings which include reconstructions of the aftermath of frenzied crimes of passion and cold-blooded murder. Violence against women is a common theme, which has troubled a number of critics.
But the ambitious student from the capital Pretoria insisted he would not halt the craze until he had achieved his aim – to become South Africa's most influential Feleb – facebook celebrity – with 40,000 followers, and warned the graphic content would only get worse until then.
'The next phase is going to be even more graphic if I don't reach my aim,' he vowed.
He said the inspiration for the craze was inspired by one of the most iconic photographs from South Africa's apartheid history – the image of fatally-injured Hector Pieterson who was killed in the Soweto Uprising of 1976, which proved a turning point in the struggle against the apartheid regime.
'I am trying to re-write history in a fun way,' the school teacher's son said. 'I am inspired by that picture of Pieterson, and the older generation don't get it, they don't understand the younger generation.'
He admitted his own parents – his mother who teaches at a middle school and his marketing director father – 'aren't very happy about it' adding, 'but older people don't get it.'
The biggest condemnation for the trend has been reserved for the heart-wrenching video of little Omuhle, dressed in shorts and t-shirt, tottering in distress around her aunt, Khanyi Mtshali, 19, which was captured by the little girl's mother Bontle, who was just 15 when she gave birth.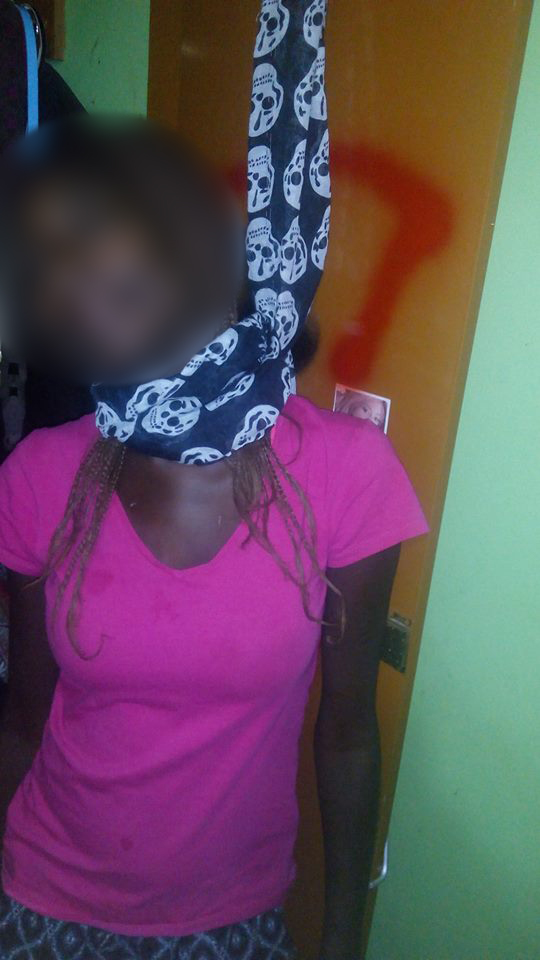 Comments calling for Bontle to be prosecuted, deriding her actions as 'satanic', 'crazy and evil', 'damaging her child' and 'heartless' streamed alongside the smartphone footage which has been shared thousands of times across facebook.
Karabo said, 'I was expecting this was going to trend, but never thought it was going to be this big. I don't have a problem with it, none of it. It's a joke. Like the icebucket challenge was big. I get lots of pictures, but I only share the stuff that is impressive.'
The trending craze has also inspired a string of memes featuring elderly leaders Jacob Zuma, the 74 year-old president of South Africa and Robert Mugabe, 92, from neighbouring Zimbabwe who have been frequently been caught napping during parliamentary business.
But some social medias have imposed a zero tolerance of the craze on their online contacts taking up the #DeadPose challenge and threatened to block or unfriend them if they join in.
(Visited 155 times, 1 visits today)