35 year old man has revealed he killed his girlfriend and went ahead to have sex with her corpse arguing that she never gave him the chance to sleep with her when she was alive.
Sunday Ushie has confessed that he invited his late girlfriend 'ÄúNnena Samuel'ÄĚ to his apartment where he killed her with a knife and slept with her dead body. In his confession, the Nigerian farmer said he regrets what he did saying it was the devil that got into him and led him to such things.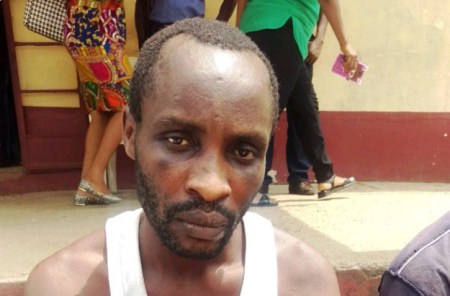 'ÄúIt is the work of the devil. I do not know how. I am the one that killed her.'ÄĚ Sunday confessed.
He continued to say, "I killed her with a knife. She was my girlfriend and I knew her for just two months before this incident happened. I slept with her corpse after killing her.
It was strange having sex with a dead body. I never had sex with her when she was alive because she never gave an opportunity. I was always giving her money but she didn'Äôt pay me back by giving her womanhood to me.'ÄĚ
The suspect had invited the deceased mother of two out in the night of January 26 and took her to his apartment. He was said to have killed the woman when she refused to allow him have sex with her.
(Visited 14 times, 1 visits today)
Subscribe to our Youtube Channel :
Follow Us on Instagram