The Malawi Congress Party (MCP) has faulted the Malawi Electoral Commission (MEC) for resorting to hold a by-election in Lilongwe City South East instead of a re-run as ordered by the Supreme Court of Appeal, saying the decision is wrong and irregular.
The Supreme Court of Appeal ruled that there should be a re-run in Lilongwe City South East following an appeal by Malawi Congress Party candidate in the 2014 parliamentary polls, Ulemu Msungama.
According to MEC it is impossible to hold a re-run as the court ruled because the country's constitution does not provide for such an election; instead a by-election will be held in the area on 6th June, 2017.
In a letter signed by MCP Deputy Spokesperson Eisnhower Mkaka addressed to MEC Acting Chief Elections Officer Thandie Nkolove said it is only Msungama who was not satisfied with the May 2014 polls.
'ÄúOpening the contest to both old and candidates in the constituency would set a wrong precendent in as far re-run elections are concerned,'ÄĚ reads in part the letter.
Concurring MCP, Chancellor College law lecturer Edge Kanyongolo said a re-run and a by-election cannot be used interchangeably
.
'ÄúA re-run and a by-election are fundamentally different, but if it is legally impossible to hold a re-run then the electoral commission is in a dilemma because if there is no legal provision for a re-run how do they hold it lawfully at the same time if they have a by-election instead of a re-run, they are doing something that is fundamentally different,'ÄĚ he said.
Meawhile MEC officials are yet to respond on the matter.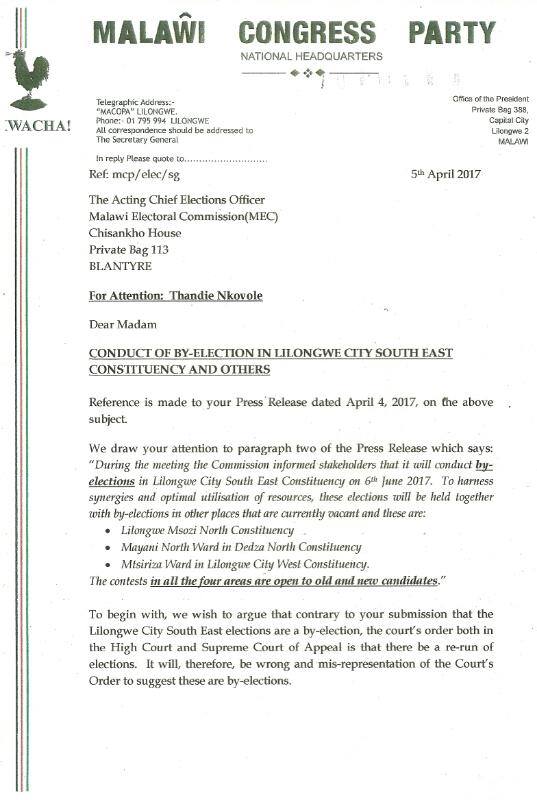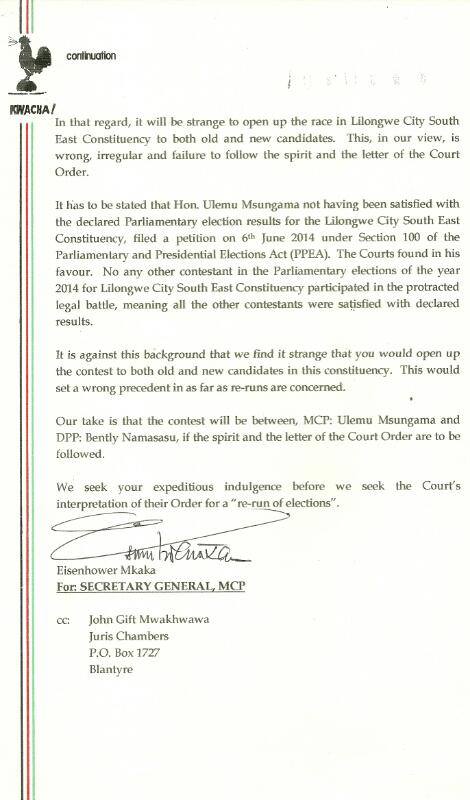 (Visited 6 times, 1 visits today)
Subscribe to our Youtube Channel :
Follow Us on Instagram