The Punch reports that the bomber entered the University through the back gate with the aim of penetrating the school before being gunned down dead by a vigilant soldier.
According to reports, public relations officer of the school, Mr Tanko Ahmed, also confirmed the botched attack on the institution.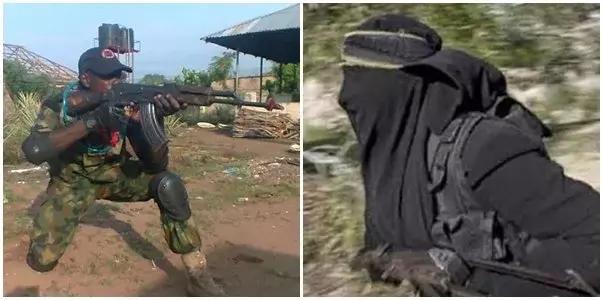 The spokesperson said the incident occurred around 11pm on Sunday night, April 9. He said the works department where the incident occurred has been cordoned off by security agents to render the area safe.
In another version of accounts, Sahara reporters said the foiled attack on the institution was carried out by two male bombers who were stopped by dogs from wreaking havoc on the academic community.
"The bombers blew themselves up as soon as they sighted the dogs barking at them as they could no longer help the situation.
"They came in through the back door and were prepared to denote the bombs before they were sighted by the dogs which prevented them from unleashing mayhem on the university community," a staff of the university, Abubakar Mohammed said
This would have been the second time a bomber to attack University of Maiduguri after the first attack in January that claimed the life of a professor of veterinary medicine and four others.
In another incident, some gunmen suspected to be Boko Haram Islamist, on Saturday, April 8, opened fire at private and commercial vehicles along the Maiduguri-Damboa road.
It was reported that the vehicles that were attacked were those going to southern part of Borno state from Maiduguri, the capital.
According to Daily Trust, shortly before taking off, some gunmen suddenly appeared and shot sporadically, killing scores and injuring many.
In this video, NAIJ.com asks Nigerians if they would like to see President Trump order an attack on Boko Haram, watch responses below:
Subscribe to our Youtube Channel: