This is the sad story of a man identified as Antonio Reloj who suffers from serious rare skin disease which has made people bully him for almost all of his life.
This is the sad story of a man named Antonio Reloj who is suffering a very rare skin condition which makes his face look like he has been burned in a fire. As a result, he has been relentlessly bullied his entire life by people who think he is cursed.
Some that the man who was born with a severe form of ichthyosis which causes his skin to harden, crack and appear burned, is not actually human.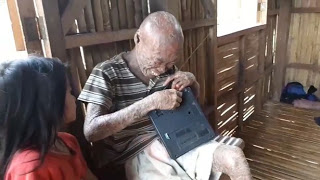 The 26-year-old's mother abandoned him when he was 12, leaving his grandmother to raise him in remote Aklan province, in the Philippines. Antonio, who dreams of becoming an electrician, said he spends his days listening to the radio and tinkering with the electronics.
He said: "When I was a child I was happy to go outside. People say that I am a ghost. I stay at home now.
"I dream of being healthy again and having a job, to become an electrician is my dream.
"My skin hurts a lot when I move too much. I hope people will understand that I am just human like them.''
Antonio, whose father left before he was born, is due to speak with medics as he leaves the village for the first time after the country's national broadcaster documented his life.
Doctors first have to diagnose the form of ichthyosis that Antonio is suffering from.
They can then prescribe a topical lotion to properly hydrate his cracked skin, though finding a cure is unlikely.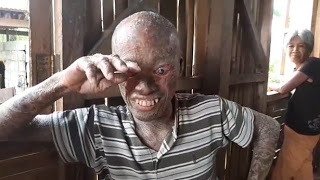 Antonio's cousin Jesselyn Rebutar said ignorant locals had dubbed him a "creature, ghost or monster".
She said: "Antonio told me that he just wants to stay at home and not go outside. He said that people call him a creature, a ghost, a monster, so he is shy now.
"They believe he is cursed. It makes me so sad. He has a beautiful smile and is a human being.
"I am thrilled to be able to help him. To see him is to understand what pain and suffering really is.
"People are derisive to him because of his illness. He has been like it since he was two three years old.
"He has grown up but it has not been a normal life and his illness has always got worse.
"I hope and pray he can go to school to study and live a happy life and people are kind to him."
(Visited 92 times, 1 visits today)
Subscribe to our Youtube Channel :
Follow Us on Instagram