An Australian house cat three times the size of a normal feline is in the running to be crowned the longest kitty in the world.
Weighing 14 kilograms, Omar the maine coon became an Internet sensation after his photo was featured on the Cats of Instagram account, which has over 8 million followers.
According to MailOnline, after Omar's picture went viral, his owner Stephy Hirst from Melbourne, was contacted by Guinness World Records, who suggested her cat could be the LONGEST CAT in the world.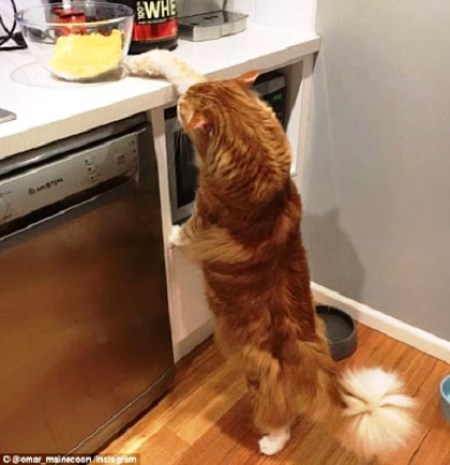 Ms Hirst said she would now send Omar's measurements in for official verification.
The current record is held by a UK maine coon measuring 118.33 cm, but Ms Hirst said she last measured Omar at about 120 cm.
'ÄúWe thought he might be (the longest cat in the world) but we hadn'Äôt done anything about it because he might not be fully grown yet,'ÄĚ Ms Hirst told The Herald Sun.
Ms Hirst and her partner Rowan got Omar when he was a kitten.
A daily diet for Omar includes two scoops of kibble for breakfast and raw kangaroo for dinner. And just like other cats he enjoys napping.
(Visited 25 times, 1 visits today)
Subscribe to our Youtube Channel :
Follow Us on Instagram