Three prisoners were found with 19 mobile phones inside their bodies after setting off a metal detector.
The group were given X-rays after they set off a metal detector during a check in a jail in Presidente Bernardes, in the Brazilian state of Sao Paulo.
One had five small mobile phones in his rear, and another four.
The third had ten of the devices in his stomach, along with headphones.
The two with the phones secreted in their behinds did not require treatment but the man with ten in his stomach had to undergo surgery to remove them.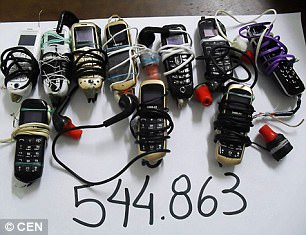 Police seized the devices and the inmates are now the subjects of an ongoing investigation.
(Visited 32 times, 1 visits today)
Subscribe to our Youtube Channel :
Follow Us on Instagram