The corpse of a man who never took part in any communal labour while he was alive, has been exhumed by residents on the order of a powerful community chief in Ghana.
It was gathered that the Chief of the area ordered residents to exhume the corpse of Koo Emmanuel, which had been buried in the early hours of Monday.
According to Ghana`s Accra FM, the Chief's order was as a result of the failure of Emmanuel to attend communal labor when he was alive. The Chief was quoted to have said that all residents who default on communal labor will not be buried on his land.
It is reported that the Chief had over the years warned Koo Emmanuel several times when he was alive that he would not be allowed to be buried in the community upon his demise, a threat the chief carried out when Emmanuel died and was buried on Monday, June 26, 2017.
The body was subsequently exhumed and left along the way for a while before some kind-hearted villagers took the body and deposited it at the community lorry station.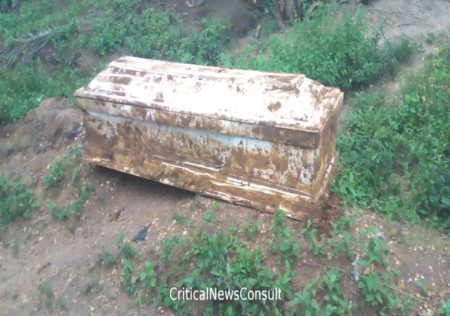 Information available to Ghana's Critical News has it that, there are some chieftaincy disputes which could have led to the sad occurrence. The dispute is between the Asene and Asona families in the community. The deceased is a member of the Asona family who is fighting the Asene family which Chief Nana Twum is a member.
However, the family of late Koo Emma is angry with Chief's decision while some residents are calling for an amicable solution to the matter so that the Chief and Elders can allow the body to be buried as soon as possible to curb any outbreak of diseases.
(Visited 43 times, 1 visits today)
Subscribe to our Youtube Channel :
Follow Us on Instagram