A Chinese man suffers from an incurable condition which makes his skin appear as rough as bark.
Li Xitian, 58, from Weihui in the Henan Province, has been living with the bizarre disorder for nearly six decades.
Cruel neighbours have dubbed him 'Bark Man' due to the cracks in his body as the thick skin spreads all over – like that seen on a tree.
Fearing they will become infected, they have even made him live in isolation to prevent the spread of the condition.
It was apparently triggered by a hairdresser in the 1950s, who accidentally cut his scalp and released a mysterious pus.
Since then, he claims the strange condition has spread from his head down to his back and even his legs.
Local reports suggest he is suffering from an extreme cases of psoriasis – a genetic condition triggered by environmental factors.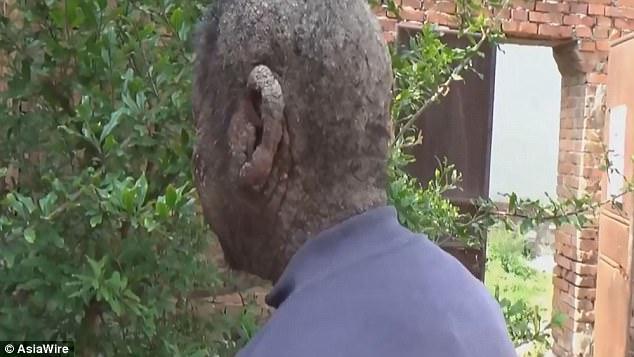 In most cases, the condition presents itself as red patches on the body, but for Mr Li it's claimed to have caused the more bizarre outbreak.
There is no known cure for the disease, but treatments do exist for sufferers with standard forms of psoriasis.

Mr Li says he has been up and down the country in search of a cure, and doctors have only been able to help him manage his symptoms.
Experts have also not been able to find a link between his condition and his odd 'hairdresser theory'.
Mr Li, who never married, was even built a special home inside his village so he could live in isolation.
Other villagers claim they are used to seeing 'Bark Man', but fear that his condition may spread to others – despite psoriasis not being contagious.
Despite having spent over 100,000 RMB (£11,300) on medical consultations, Mr Li says his symptoms have yet to be relieved.
Local government is subsidising his expenses and hope the public can provide more resources for his treatment so he may live a more comfortable life.
(Visited 21 times, 1 visits today)
Subscribe to our Youtube Channel :
Follow Us on Instagram