Doom pastor Prophet Lethebo Rabalago has caused a scene at Mookgopong Magistrates Court in South Africa where he appeared to answer charges he was held against.
Yesterday he shocked everyone at the Limpopo court when he pitched up with an apparently fake lawyer after saying he would organise his own representation.
According to sources at the court, the pastor brought a lawyer to represent him whose credentials could not be verified by the court.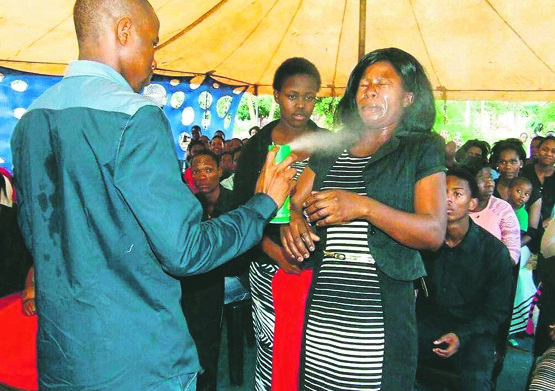 His case was postponed to next Friday for him to find proper legal representation.
The pastor of the Mount Zion General Assembly was charged with five cases of assault and three of breaking environmental laws after allegedly spraying insecticide into the faces of his congregation members.
South Africa`s Daily Sun published the story about the Doom pastor in November after he claimed he was simply following in his father's footsteps with his ministry.
The pastor argued there was nothing powerful in the Doom insect spray.
He said he was only testing people's faith.
Last year he said: "I have been instructed by the Holy spirit to use it at our night sessions.
"I use everything the Lord directs me to heal people with."
Chairwoman of the Commission for the Promotion and Protection of Religious Communities Thoko Mkhwanazi-Xaluva condemned the spraying of Doom into congregants' faces during an inquest into controversial practices by church leaders.
She urged religious people to create a system to ensure harmful practices are stopped.
(Visited 35 times, 1 visits today)
Subscribe to our Youtube Channel :
Follow our Instagram