A man from Caleb Motshabi in South Africa has come out to claim his dead grandfather showed him in a dream how to get rid of the evil little woman who terrorised him in his sleep for two years.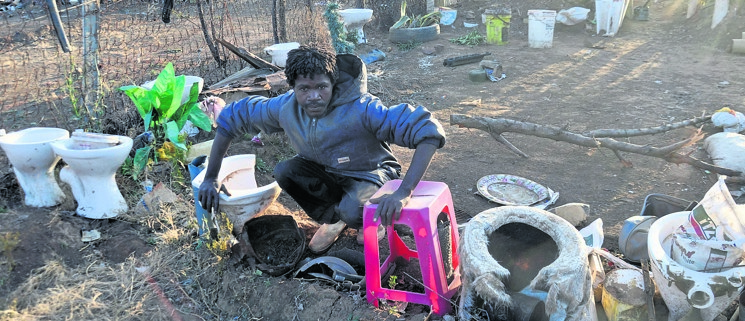 He claimed the woman would come and play with his manhood when he`s asleep, but now after putting eight toilet seats around his garden, Tshepiso sleeps like a baby.
"I even thought of ending my life, but after understanding what my late gogo was trying to show me, I have my life back again," Tshepiso told Daily Sun online magazine.
"My trouble started three years ago when I moved to this place. At night I would feel something touching my thighs and slowly moving towards my pen*s, like someone was rubbing me. When I opened my eyes I would see a short creature with a wig and red lipstick smiling at me. Then all of a sudden it would disappear into thin air.
"The evil creature would wildly play with my pen*s. I went to two sangomas (witch doctors) but they couldn't help me. Instead they said someone wants me to hang myself. They just gave me water and muthi to put under my bed. That never helped.
"In my dreams I often saw my gogo pushing me towards a toilet seat and smiling. So I started collecting toilet buckets and putting them around my garden. Since I have had these toilets, my evil tormentor doesn't come anymore."
One witch doctor named Mamoya Rakauoane said: "Tshepiso was given instructions by his ancestors."
(Visited 67 times, 1 visits today)
Subscribe to our Youtube Channel :
Follow Us on Instagram