A number of people have reportedly injured and taken to hospital after they were trampled upon in a stampede at Moi Avenue Primary School, in Starehe constituency, Nairobi, polling centre as hundreds of agitated voters pushed and shoved.
The voters who arrived at the centre-which has 14,021 registered voters from as early as 12am, hoping to be first in line to cast their ballots, were pushing and shoving as some struggled to locate their polling points (stations) amidst the sea of humanity.
in the process, some who included women, fell down and were trampled upon
Luckily, there was an ambulance on standby and those injured were rushed to hospital.
A man who identified himself only as Jimmy to Kenyan media was lucky to walk away with a limp. "Although I am happy to have finally voted, i have injured and i am now limping home," Jimmy, said at 6.45am, as he limped to his vehicle.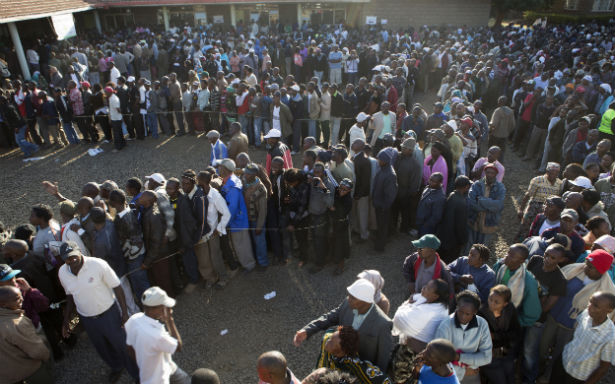 Security officers came in handy for the hundreds of voters struggling to find their polling points which were not clearly marked. the surging crowds did not make matters easy for those looking for their "lines."
It has been reported that the centre has 21 polling stations and each was expected to have at least 700 voters.
By 5.30am, parking spaces around the centre had already been taken up and those who came after that time had to look elsewhere to park their vehicles and walk back to vote.
(Visited 14 times, 1 visits today)
Subscribe to our Youtube Channel :
Follow Us on Instagram