Tuesday was day where people down streets of Sao Paulo in Brazil admired well shaped bums for free as 27 cheeky candidates almost stopped traffic as they marched during the launch of this year's pageant.
The potential candidates opted for being shortlisted in public vote got hearts racing as they paraded through the streets of Brazil for Brazil's Miss BumBum 2017.
An eye-poping line up of scantily-clad hopefuls showed off their enviable assets on one of the city's busiest streets – Avenida Paulista.
Motorists were given an eyeful by the vying competitors, who will battle it out for the coveted title in a public vote before being whittled down to 15 finalists for the grand finale in November.
The girls put on a show for keen spectators, with some giving each other a peck on the lips and cuddling up to their fellow contestants.
This year competition will be much interesting an amputee model will prove doubt wrong as she is going to participate.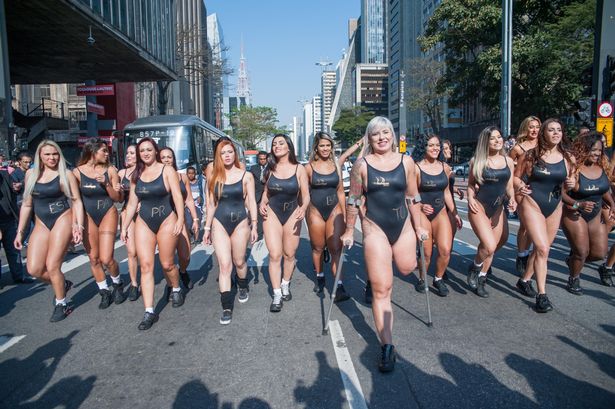 People can now select their favourite behind from a shortlist on the website after judging began on August 7.
Last year's competition saw Samba queen and model Erika Canela selected at the winner of the annual competition during the final at a Sao Paulo nightclub.
The Miss Granny Bumbum winner was Dona Geralda, 64, a former Brazilian Big Brother contestant.
More photos below;
(Visited 441 times, 1 visits today)
Subscribe to our Youtube Channel :
Follow Us on Instagram