At least 36 people were killed and 13 injured when a packed bus slammed into a wall at the mouth of an expressway tunnel in northern China, authorities said Friday.
The coach crashed at the Qinling tunnel in Ankang, a city in Shaanxi province, on Thursday night, according to the State Administration of Work Safety.
The bus appears to have struck the wall just outside the tunnel as an AFP photo showed authorities placing a long tarp over to the right of the entrance, with another cover concealing the coach, which was a few metres back on a bridge.
Earlier photos published by the official Xinhua news agency showed that the front of the red bus had caved in due to the force of the crash.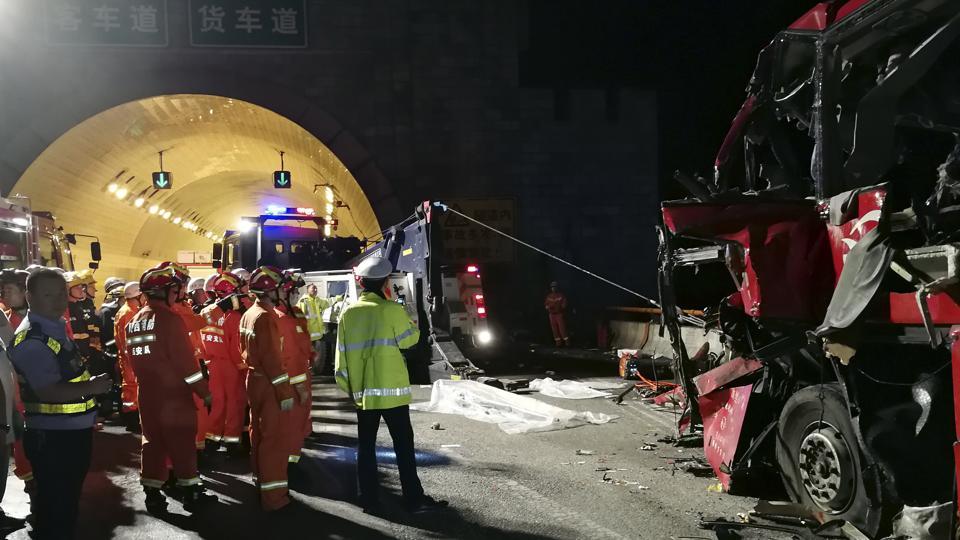 The photos showed a tow truck at the scene along with rescue workers surveying the damage on the bridge just outside the tunnel near forested hills. Twisted metal was strewn in front of the bus, several windows were broken and a front tyre was blown out.
"The coach was seriously mangled," the State Administration of Work Safety said in a statement, adding the cause of the accident was under investigation.
The bus had departed from Chengdu in southwest Sichuan province en route to the central city of Luoyang.
The injured were rushed to hospital. The bus had a 51-passenger capacity and was carrying 49 people, the statement said. Local media said two children were aboard.
(Visited 4 times, 1 visits today)
Subscribe to our Youtube Channel :
Follow Us on Instagram