Internet users have been shocked after a video emerged showing a strange object hovering in the sky before changing shape and disappearing.
This is the rather bizarre video footage which shows a black ring object floating in midair above a beach in northeastern China.
According to swimmers who witnessed the incident, the UFO-like object flew slowly across the beach, changing shape before it disappeared into the clouds.
However online users from the local area suggested it could be a smoke ring caused by a performance at a nearby playground.
According to
Daily Mail UK,
mobile phone footage, uploaded by Pear Video, shows Jinshitan beach in Dalian, China's Liaoning Province on August 12.
An oval-shaped black smoke ring can be seen floating above the beach.
One onlooker, surnamed Yu, said in the video: 'There is an unidentified flying object appearing in the sky. Its oval shape is expanding and it is coming towards us closer and closer.'
The object then changed its shape to a parallelogram. It disappeared into the clouds shortly after.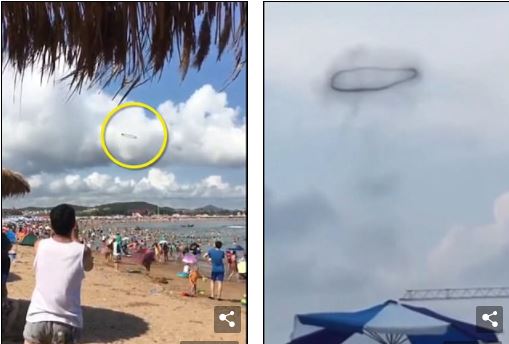 Dozens of swimmers noticed the ringed object.
As videos of UFO sightings were speculating on social media site Weibo, there were web users clarifying that it was just a hoax.
According to ET Today, web users from local area said it had happened before at the same location.
It is suggested that the black ring was a special visual effect from a performance at a nearby playground. 'Whenever the show started, they shot out a black smoke ring,' commented by web users.
Spokesperson from the playground admitted that the smoke ring was a flame effect from a performance.
(Visited 16 times, 1 visits today)
Subscribe to our Youtube Channel :
Follow Us on Instagram