A man has bought his own coffin after a fortune teller told him he was going to die and didn't not have much time to live.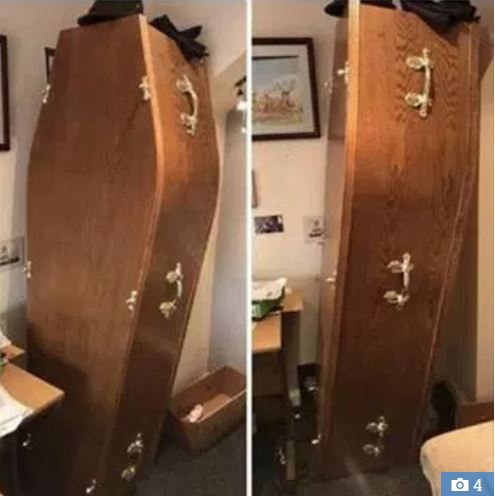 A 28-year-old panicked English trader, Joe Kidd, is a man who bought his own coffin after a fortune teller told him he "doesn't have much time left".
He has howver sold it on Gumtree for a £52 profit – and has bought six more caskets to flog.
According to The Sun UK, the superstitious man from Macclesfield, saw his listing to sell the coffin for £300 on the online marketplace go viral yesterday.
The odd listing read: "6.2 feet coughing [sic] for sale due to wrong diagnosis any enquiries please give me a call."
The Sun Online managed to track down Mr Kidd, who works as a used car salesmen, and he said that he'd had "hundreds and hundreds" of calls about the coffin.

He claimed: "It all started about three months ago when I got a knock on the door. It was some gypsy fortune teller trying to sell something.
"I wasn't interested but she asked to read my palm.
"She told me I didn't have long left and while I'm not usually that superstitious I didn't want to take any risks.
"So I got measured and got my own coffin for £198. Three months later and I'm still here and feeling good so I thought I'd sell it.
"Some bloke came and bought it for £250, so I made a decent profit."
He added: "I had to get rid of it in the end, mainly because it was in my office and I kept having customers come into my house and they were like 'what's a coffin doing there?'"
Despite his bizarre story, Mr Kidd insists the post wasn't a prank as many initially predicted.
"It's just escalated and I'm getting all these messages and calls," he said.
"I've now bought six more of the coffins and I'm going to try and sell them on for more. It could be a great little business opportunity."
However many still believe Mr Kidd's post is a jest.
One Twitter user wrote: "This whole thing is like a pitch for a dark, offbeat comedy."
Another said: "I'm not sure if this is a joke that's gone terribly wrong."
Mr Kidd said he did not regret posting the coffin online, although he wished he hadn't spelt it "coughing" because as a result many had "taken the mick".
(Visited 65 times, 1 visits today)