26 people have been confirmed dead and 20 others injured after a gun man opened fire on Sunday at the first Baptist church in Texas.
The identity of the man has been revealed as that of a 26-year-old Devin Kelley who was kicked out of the US Air Force following a court martial for allegedly assaulting his spouse and child and was sent to 12-months in prison for it.
Texas Department of Public Safety regional director Freeman Martin said the attacker, dressed all in black and wearing a bulletproof vest, opened fire with an assault-style rifle outside the church at around 11:30 local time (17:30 GMT) and then went inside.
As the gunman left the church, a local citizen grabbed his own rifle and began shooting at the suspect, who then dropped his weapon and fled in a vehicle.
The citizen pursued the suspect, who eventually drove off the road and crashed his car at the Guadalupe County line.
Police found the man dead in his car, but it is unclear if he died from a self-inflicted gunshot wound or from injuries received when fired on by the local citizen. The car contained several weapons.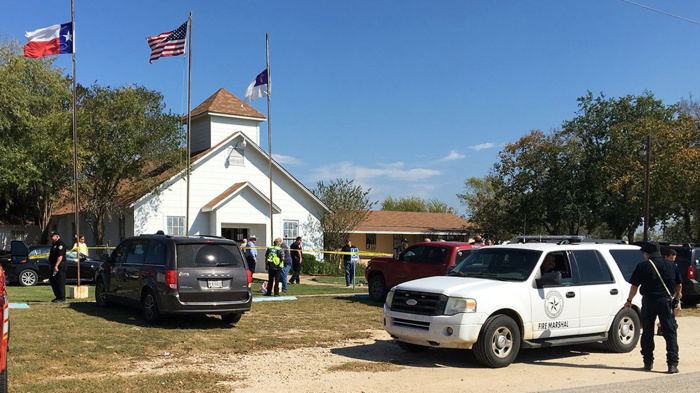 The shooter`s classmate, Patrick Boyce said Devin had so much hate for people who believe in bible teachings.
"He had a kid or two, fairly normal, but kinda quiet and lately seemed depressed. He was the first atheist I met."
Also Nina Rose Nava, who went to school with the gunman, wrote on Facebook: 'ÄėIn complete shock! I legit just deleted him off my fb cause I couldn'Äôt stand his post. .He was always talking about how people who believe in God were stupid and trying to preach his atheism.'Äô
Christopher Leo Longoria replied: 'ÄėI removed him off FB for those same reasons! He was being super negative all the time'ÄĚ he said.
(Visited 11 times, 1 visits today)
Subscribe to our Youtube Channel :
Follow Us on Instagram