Three people are reported dead while 9 others have sustained serious injuries after a minibus they were travelling overturned at Mtengowanthenga trading centre along Lilongwe-Kasungu M1 road.
According to a police report seen by faceofmalawi reporter, the accident happened after the rear right tyre of the Minibus registration number KA 8089 Nissan Caravan minibus driven by Mr. Dailasi Kishombe aged 28 burst due to speeding.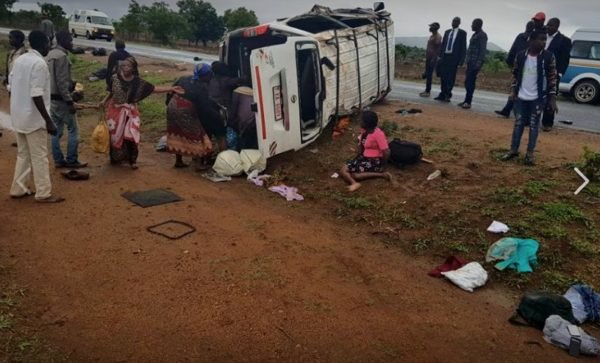 "Facts of the case are that the vehicle was being driven from KARONGA heading LILONGWE with 14 passengers on board. Upon arrival at Chakalamba village got burst due to speeding and the driver failed to control the vehicle. As a result the vehicle overturned three times on the offside.
'ÄúDue to the impact the following passengers (i) Sgt Alick Malungo Kampini aged 41 of Mwenelupembe village T/A Kyungu D. KARONGA C/O Kamuzu barracks Box Lilongwe died on the spot. (ii) Tatsiyana Namigabe, child, other details unknown died on spot and another unknown adult Female died on the spot,'ÄĚ reads the police report in part.
Added the report: 'ÄúOther nine (9) passengers sustained various serious injuries and the rest sustained minor injuries including the driver.'ÄĚ
Some of the victims are receiving treatment at Mtengowanthenga hospital while some who are in critical condition are at Kamuzu Central Hospital.
(Visited 24 times, 1 visits today)
Subscribe to our Youtube Channel :
Follow Us on Instagram