A 24-year-old Egyptian man is reportedly cycling from Egypt to Russia just to support his team during the next world cup which will take place in Russia this coming June.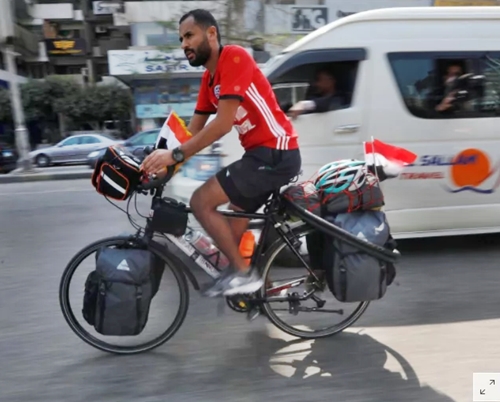 Mohammed Nufal embarked on the long-haul journey from Egypt and is planning to traverse seven countries across three continents including Jordan, Bulgaria, Romania, Moldova and Ukraine just to get to the world cup.
Nufal said he will only take a flight from Jordan to Bulgaria to bypass a civil war which is currently happening in Syria.
"The languages are among the biggest challenges," Nufal told The Associated Press. "I will deal with that using translation apps and sign language."
He expects the weather to be bearable during his kourney.
According to his official Facebook page, Nufal said his trip would take 65 days covering a distance of some 5,000 kilometers (3,3160 miles).
He expects to take nine days to travel 800 kilometers in Egypt alone, where his last stop will be in south Sinai's Nuweiba, before heading to Jordan.
Nufal had previously biked for 70 days to Gabon, passing through Chad, Sudan and Cameroon.
Egypt qualified for this year's World Cup for the first time since 1990.
(Visited 1 times, 1 visits today)
Subscribe to our Youtube Channel :
Follow our Instagram