State Vice President Dr. Saulos Klaus Chilima is scheduled to launch his United Transformation Movement on July 21 and 28 in Lilongwe and Blantyre respectively.
This has been disclosed in a communiqué released on Thursday signed by the movement's publicity secretary, Joseph Chidanti Malunga.
According to Malunga, the launch will be done at Masintha ground in Lilongwe and Ndirande in Blantyre.
"United Transformation Movement is a mobilization of the people, by the people for the people. It is here to galvanize our strengths, dreams, hopes, ambitions and aspirations as together we build a reality where all of us are collectively proud to be Malawians once again," reads the statement in part.
It is expected that Chilima will announce how he is going to contest in the 2019 tripartite elections at the launch.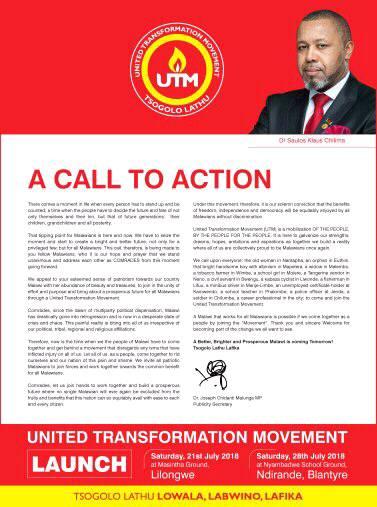 The Movement is a breakaway faction from the ruling Democratic Progressive Party which emerged following leadership wrangles in the party.
(Visited 5 times, 1 visits today)
Subscribe to our Youtube Channel :
Follow Us on Instagram