Minister of Health and Population Atupele Muluzi who is also President of the United Democratic Front (UDF) has distanced himself from a facebook account bearing his name with a vacancy from Malawi Red Cross, describing the facebook page as fake.
The past two days the social media was awash with a vacancy posted on Atupele's facebook account informing Malawians that Malawi Red Cross is in a massive recruitment of prospective employees across the country.
"I am pleased to announce good news to our brothers and sisters in Malawi who are looking for employment. The Red Cross Society of Malawi has launched a massive recruitment exercise in all districts of Malawi, to qualify you must be 18 years and above, have passion to help others and must be willing to work anywhere in Malawi," read the vacancy in part.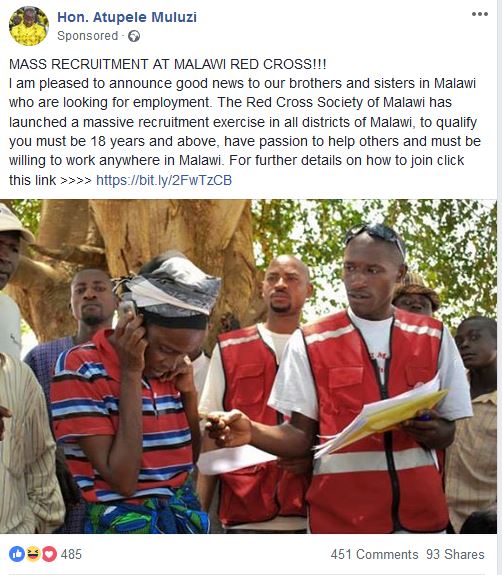 The statement further urged the prospective employ to pay something for them to be considered for the job.
But Muluzi has distanced himself from the account, describing it as fake.
"Some may have seen some new facebook accounts that have been set up in my name. These pages have not been authorised by me and the content is spam. Unfortunately some of the content is particularly damaging and has suggested that the Malawi Red Cross are requesting payment for employment. Both the Malawi Red Cross and I refute this – please do not be misled.
"My team are working with Facebook to have these fake accounts withdrawn and the issue is being reported to the Police," said Muluzi.
He added: "For those of you who have supported my Facebook page, you will know that the content has only ever been positive and in keeping with my political and personal values and beliefs. This fraudulent use of social media is both a criminal act and damaging to the development of Malawi's democracy and will not be tolerated."
Concurring with Muluzi's remarks, Malawi Red Cross Communications and Humanitarian Diplomacy Manager Felix Washngton has also quashed the information.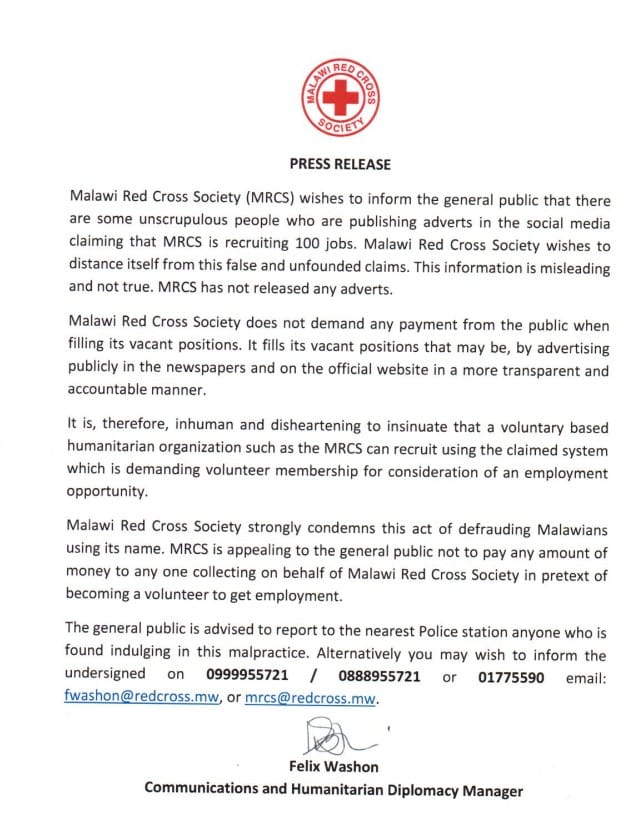 (Visited 5 times, 1 visits today)
Subscribe to our Youtube Channel :
Follow Us on Instagram