Teachers stormed yesterday at Ministry of Education, Science and Technology (MoEST) headquarters at Capital Hill in Lilongwe demanding for promotions.
114 teachers were at the Capital Hill representing 1,612 primary schools teachers across the country. Their action was followed by the promise made by MoEST in September that teachers who upgraded themselves to diploma and degree level will be promoted to positions fitting their qualifications by the end of the that month.
However, the teachers are yet to be promoted, and in a turn of events, MoEST terrified teachers with the advertisements that it will only promote teachers who upgraded with science disciplines, which made angry those holding qualification in non-science fields.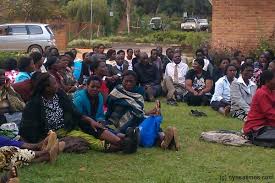 Dokiso Munthali Leaders of the self-upgraded teachers who teaches at Mpamba Community Day Secondary School in Nkhata-Bay  said that, most teachers who upgraded themselves are still receiving grade L salary.
He said primary school teachers receive a salary within that grade with the lowest paid urban teacher getting about MWK85,000 monthly and those in rural areas receiving about MWK92,000, including a hardship allowance.
On the other hand, degree holders are demanding a monthly net pay of MWK165,000 while those with diplomas want MWK145,000.
Civil Society Educating Coalition (Csec) executive director Benedicto Kondowe has since faulted government for its failure to honor its promise to promote the teachers. He accused government of ignoring the welfare of teachers.
Kondowe said the promotions were long overdue.
He said: "Government is not prioritising the welfare of teachers. The issue of promotion has been there for long and that has led to the accumulation of billions of Kwacha in arrears.
MoEST spokesperson Lindiwe Chide and Principal Secretary Justin saidi were not available to comment on the matter. Chide then accused the the teachers for doing the strike without consulting the union
According to Kondowe, government would need about MWK800 million to effect the promotions, including arrears backdated to September.
The teachers have been fighting for the promotions since 2015.
(Visited 11 times, 1 visits today)
Subscribe to our Youtube Channel :
Follow Us on Instagram