By Eamon Piringu (Contributor)
In the wake of increased unemployment among youths in the country, Innovators and entrepreneurs have called on stakeholders to give them an uplifting hand in their innovations.
One of the talented innovators, Patrick Mangani (25) from Chiradzulu district, said most youths in the country are jobless yet have talent that needs to be embraced by stakeholders in the arts and crafts section for them to earn a living.
Mangani who developed a handheld power generator is one of Malawi's natural talents who came up with the idea to ease the effects of energy challenges the country is facing.
"I came up with this idea because I saw people in my area struggling to charge their phones and even have their houses lightened up at night. Although am still in the last stages of developing this device, I don't know if I will penetrate in the market because I don't have any monetary assistance that might help me develop higher quality gadgets. I plead with potential sponsors to help us with either additional education or financial support," Mangani said.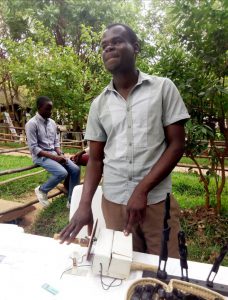 He further urged fellow talented young people to come out of their shells, so as to help in the development of the country.
"To the youths, please let's show off talents. They are such talents that can develop Malawi," he added.
Mangani, a secondary school graduate, who has never attended any formal vocational training to bring out such knowledge, makes the generators using scrap metal and plastic material. He is also a member of The Innovations Hub Malawi that is based in Blantyre.
Innovations Hub is a grouping that provides a platform for youths and women to participate in innovation and technology for development through mentorship interaction, collaboration and support for innovative products and service generation.
He made the call on the sidelines of this year's Social Impact Incubator (SII) Expo that was held at Lilongwe Wildlife Center on Wednesday last week, 28 November, 2018. The Expo brought out over 20 Segal Family Foundation partners who are categorised in sections of Health, Agriculture, Education, Human Rights, Arts and Innovation.
The exhibition event gave a platform for youths to interact with the organisations, hence giving them an opportunity to earn internships and volunteer positions in respective organisations.
(Visited 34 times, 1 visits today)
Subscribe to our Youtube Channel :
Follow Us on Instagram