Main opposition Malawi Congress Party (MCP) President Dr. Lazarus Chakwera will be the first aspiring Presidential candidate to present his nomination papers to the Malawi Electoral Commission (MEC) at Comesa Hall in the commercial capital Blantyre this coming Monday.
This has been disclosed in a statement released on Wednesday by MEC Chief Elections Officer (CEO) made available to faceofmalawi.
According to the statement, the presentation of nomination papers will run from February 4 to February 8 2019.
The program indicates that MCP President Dr. Chakwera together with his runningmate Muhammad Sidik Mia will be the first to present the nomination papers starting from 9am.
Chakwera will be followed by Umodzi Party (UP) President Professor John Chisi at 11am and later on it will be the turn of Ms Florence Fulayi, Independent President who will be followed by Tikonze People's Movement of Cassim Chilumpha, former Vice President.
MEC has since appealed to all candidates to observe time allocated to them.
Below is the full programme;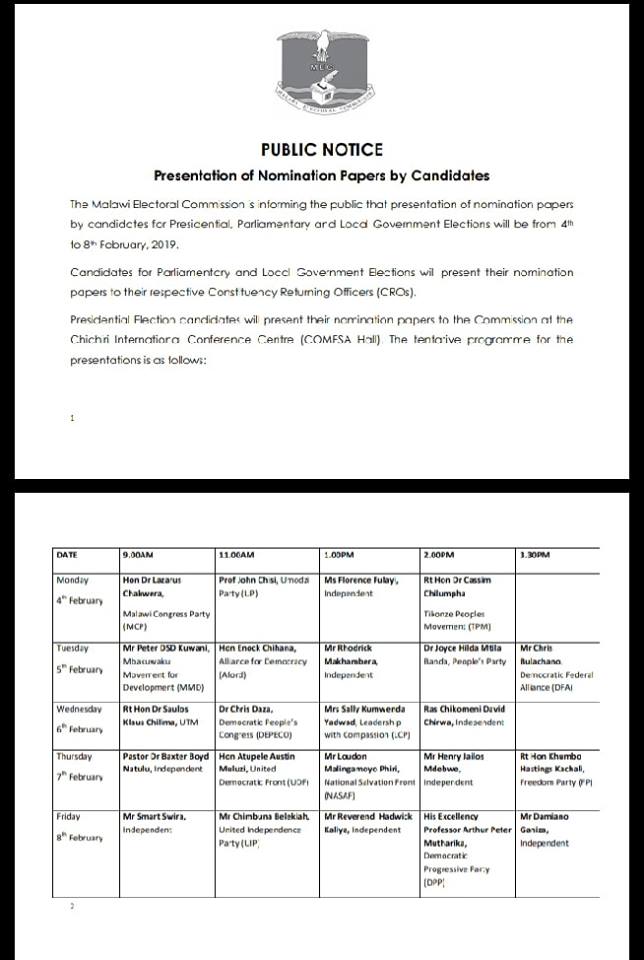 (Visited 8 times, 1 visits today)
Subscribe to our Youtube Channel :