Former President Dr. Joyce Banda has pulled out of the Presidential race for the forthcoming May 21 tripartite election following an alliance with the main opposition Malawi Congress Party (MCP) of Dr. Lazarus Chakwera.
This was disclosed in a jointed media briefing held in the capital Lilongwe attended by MCP supporters led by its Secretary General Eisenhower Mkaka and Peopleā€™s Party (PP) led by its Easten Region Vice President Roy Kachale Banda franked by the Party Secretary General Ibrahim Matola.
In his speech Mkaka said apart from withdrawing from the Presidential race Banda has also endorsed Chakwera as the rightful candidate in the forthcoming May 21 polls.
He said the development will not have any effect on Chakwera- Mia pair since PP has promised to fight for the betterment of Malawians and not personal gain.
Concurring Mkakaā€™s remarks, Matola said PPā€™s National Executive Committee (NEC) fully support the stand taken by Joyce Banda.
Below is the joint statement;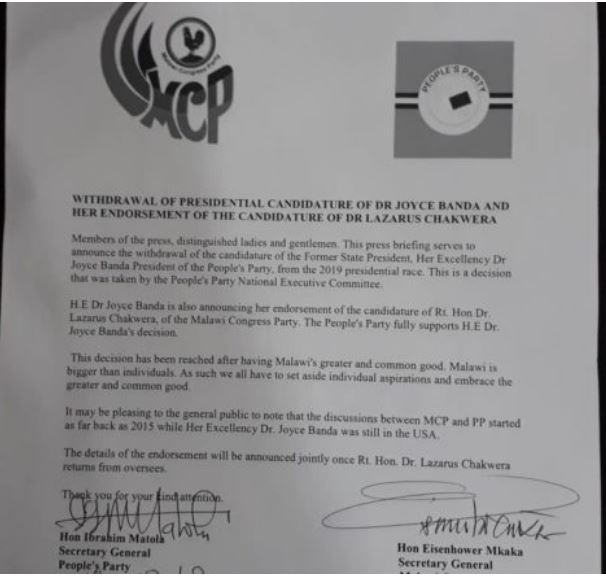 (Visited 5 times, 1 visits today)
Subscribe to our Youtube Channel :
Follow our Instagram