A Myanmar-based pilot will go down as one of the real heroes in modern era after he somehow managed to make an emergency landing with a plane which lacked its front wheels. The pilot ended up saving all 89 passengers on board as the plane managed to make an emergency landing, against the odds.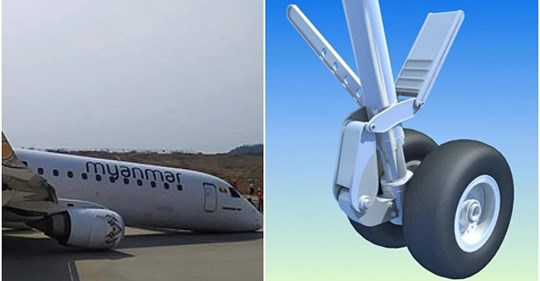 According to reports by Daily Mail, the plane had to make an emergency landing at the Mandalay airport in Myanmar after the landing gear failed to deploy. An unverified video has since gone viral online detailing the incident which, quite amazingly, left no one hurt.
Watch The Scene Here >> https://twitter.com/i/status/1127424170566881281
According to reports, the pilot carefully adhered to instructions on the landing procedures as he dumped fuel to reduce the aircraft's weight and facilitate a fairly safer landing. The plane, amid a terrifying landing, eventually comes to a halt but that is after its nose hits the ground for a lack of Tyre-systems in the front area.
Passengers could be seen walking away from the scene with smiles on their faces after they somehow managed to cheat death.
Myanmar National Airlines have since sent engineers to the airport to check on the aircraft to establish the cause of the fault. As expected, flights at the airport were temporarily suspended, meaning a large chunk of tourists had to re-schedule their flights.
Source : DailyMail