Former Vice President Dr. Saulos Chilima who is also United Transformation Movement (UTM) President has back the ongoing demonstrations demanding the resignation of Malawi Electoral Commission chairperson Jane Ansah.
Chilima said this in a statement released on Tuesday reacting to the demand by Inspector General of Police Rodney Jose asking Human Right Defenders Coalition (HRDC) to suspend the ongoing protest.
In the statement, Chilima said while he condemns acts of violence and looting registered during some of the demonstrations, "no State institution should be used to muzzle a very clear and unequivocal call of the people of Malawi".
'ÄúThe communication banning the exercise of the fundamental rights and freedoms enshrined under the country'Äôs constitution is, therefore, curious turn of events and certainly a path to aggravation of an already sententious and tense status quo,'ÄĚ reads part of the statement.
Below is the full statement of Chilima;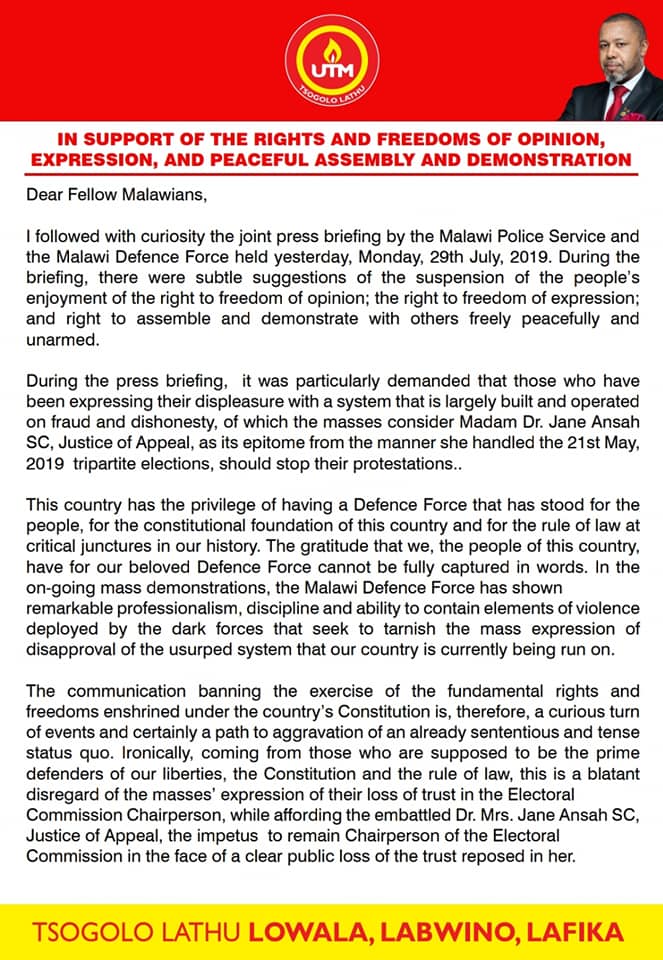 (Visited 4 times, 1 visits today)
Subscribe to our Youtube Channel :
Follow our Instagram