South African socialite who is famously known for performing without underwear, Zodwa Wabantu took to Instagram to reveal her new car.
According to Daily Sun, the pantyless naked dancer said she bought a T6 VW on the 3rd of July.
But because of her busy schedule, she only managed to fetch it over the weekend.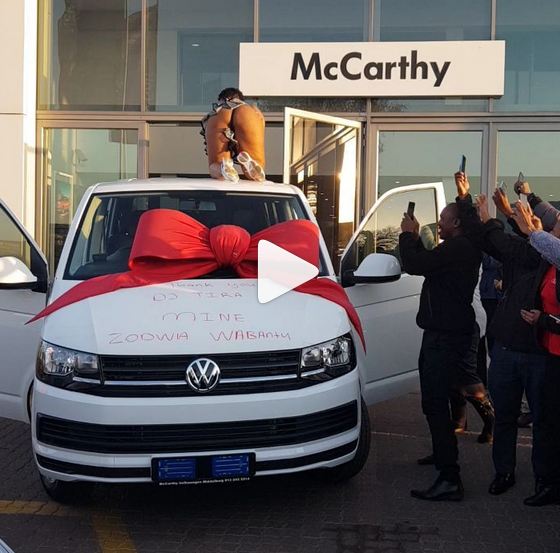 She said she has spent a lot of money on hiring cars for travelling.
She added that she is happy with the car because it's like a version of herself.
"It relates to me, it is loud, special like me and it has a lot of space.
"I will be able to rest while on the road to my gigs," she said.
The star already has a slick Audi which she described as a luxury, therefore, the new addition will serve as a work vehicle as she travels all over South Africa.
Zodwa said she is aware about the critics doing rounds that her ass is working for her.
"To tell you the truth I am always in the public's eye, whether you respect them or not they will always talk.
"When I was poor I was accused of sleeping with men to make money because I was hungry.
"Now that I am up there they still talk, I do not care," she said."
She said she is grateful to DJ Tira because he is the one who took her in when she was down.
"He will always hold a special place in my heart that is why I give all thanks to him.
Zodwa made headlines in May when she popped the question to her lifetime bae, Ntobeko Linda.
She took to Instagram and shared a video of her going down on one knee at Eyadini Lounge in Durban, and asked Ntobeko to marry her.
She said she bought the ring from the money she made from twerking.
Their wedding was supposed to take place in June.
On the same month, she also made headlines when she called off their wedding.
At the time, she told the Daily Sun that she has decided to take a step back from her relationship as it was causing her too much stress.
(Visited 122 times, 1 visits today)
Subscribe to our Youtube Channel :