South African Police and other law enforcement officers were stoned during a protest in the Joburg CBD by foreign nationals yesterday.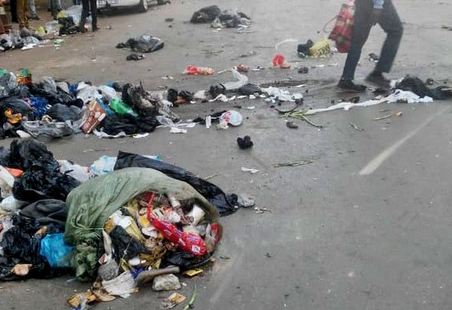 Witnesses said the large convoy of cops were attacked after they had confiscated counterfeit goods.
Four Joburg Metro police vehicles were damaged allegedly by foreigners who had ambushed police on Rahima Moosa Street near the Carlton Centre, Daily Sun reports.
Videos were circulating on social media showing people blocking the roads with burning tyres and throwing stones at cops.
By lunchtime, some of the shops were still closed.
Neo Rabotapi (52) told Daily Sun cops were merely doing their job when they were ambushed.
"The cops are right. People sell counterfeit goods and get away with it. They don't pay tax and don't support the country," he said.
Metro police spokesman Chief Superintendent Wayne Minnaar said traffic cops and the police were responding to the protest in Rahima Moosa Street when they were attacked.
"They had to fire rubber bullets to disperse the protesters.
"The situation remains tense. No one has been arrested," he said.
"I can confirm that four of our vehicles were damaged during the protest," he said.
Minnaar said he couldn't confirm the reason for the protest.
Motorists were advised to use alternative routes.
Joburg Central police spokesman Xoli Mbele said he was not aware of the incident.
(Visited 1 times, 1 visits today)
Subscribe to our Youtube Channel :
Follow our Instagram