It is generally true that most people eat with care to ensure that what they ingest supports major internal organ function. When cooking, simple and clean ingredients often create the best cuisine. The same principle should hold true for the makeup that clients use on a daily basis to enhance, not mask, their appearance.
Makeup is meant to enhance outer beauty without harming the skin. The skin is the largest organ of the body. It is a protective shell that needs to breathe and be nourished and nurtured.
As part of a daily routine, most women use makeup to enhance their appearance. According to statistics, one in three women will not leave home without wearing makeup. Most wear 60 percent more than is necessary. So some may question if more masking, as opposed to enhancing, is occurring. Assuming these research statistics are in fact true, knowing it varies by geography and ethnicity, would it not be wise for women to choose what they wear on their skin?
Makeup Ingredients
Certain types of makeup can sometimes be laced with toxic chemicals that are harmful to the skin. If we were to use a food analogy, it is comparable to eating harmful ingredients as opposed to beneficial, nutritious foods that support the body's health and well-being. When a client chooses a makeup product, it should also support their skin health and well-being.
It is extremely important for clients to know how to check the label to ensure that there are no harmful chemicals or toxic ingredients.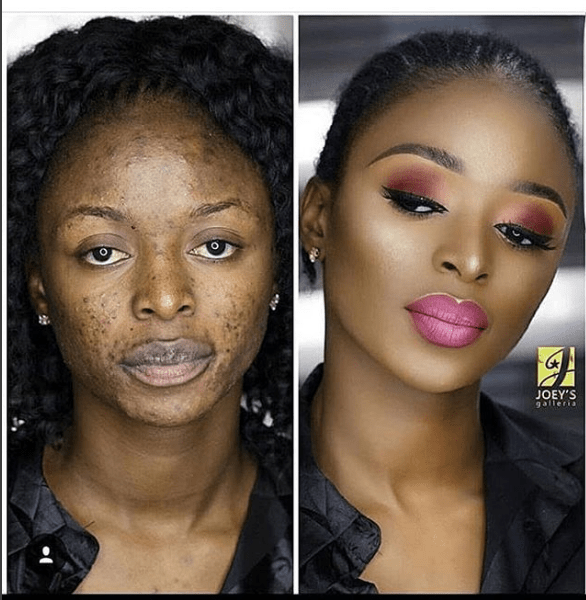 People can oftentimes have allergic reactions to common cosmetic product ingredients. These reactions fall within two categories: irritant contact dermatitis (which is an itching and burning reaction to a product that irritates the skin) and allergic contact dermatitis (which can include swelling, itching, and blisters, according to the American Academy of Dermatology).
Both types of reactions are commonly caused by fragrances, preservatives, or other chemicals within certain makeup products. Makeup can also cause acne cosmetica. This acne is mild, common, and characterized by blocked pores and reddened bumps on the chin, cheeks, and forehead. Acne cosmetica occurs when oils from makeup clog the pores. Thick liquid or cream makeup products are more often culprits of acne cosmetica than lighter makeup products like powders. To avoid these reactions, clients need to look for makeup products that are fragrance- and oil-free, hypoallergenic, and noncomedogenic. But, is that enough?
What Ingredients to Avoid
The most common ingredients in makeup can contain harmful chemicals. These chemicals are BHA/BHT, p-phenylenediamine and colors, otherwise known as coal tar dyes. DEA-related ingredients most often found in creamy products are formaldehyde-releasing preservatives. The ingredient list could include some of the following names: DMDM hydantoin, diazolidinyl urea, imidazolidinyl urea, methenamine, and quarternium-15. Other toxic ingredients to avoid include any fragrance, PEG compounds, petrolatum, parabens, SLS, and the list can go on.
Makeup artists should look for professional makeup products without bismuth oxychloride (a by-product of lead and copper which can damage skin on a cellular level), talc, and unnatural colorants. So, the question remaining is how to best enhance a client's appearance without exposing their skin to toxic ingredients.
What Ingredients to Look For
Not all professional makeup is equal, so selection should be chosen wisely. Ideally, makeup with clean, simple ingredients should be used on the skin. When choosing a makeup to invest in, look for a product that is long-lasting. Makeup that is light and long-lasting will allow the skin to breathe.
Choosing Makeup
When it comes to choosing a professional makeup product, less is often considered more. Seek a product line that has minimal ingredients. On average, most professional makeup lines contain anywhere from 10 to 20 ingredients. Makeup artists should look for a line with a minimum of three to a maximum of 10 ingredients. Next, find a product line that does not absorb water or skin oils (those that do not begin separating later in the day but will last the entire day).
As mentioned before, professional makeup products should also allow the client's skin to breathe. The product should not be affected by the skin's natural oils, humidity, water, or any other environmental factors that influence some product's performance. Many current makeup products also include an SPF, which can be found in titanium dioxide and zinc oxide.
A makeup line should not leave the face shiny and it should mimic the color of the client's skin to create a more natural glow. Since many clients suffer from sensitive skin, consider a line that works for all skin types or find one with specific products for those with sensitive skin.
A client's appearance and how good they feel about how they look is imperative to self-esteem, self-image, and their overall well-being. As most people choose their food wisely in today's health conscious environment, the same choice should be made when it comes to makeup and topical skin care for clients. A long-lasting, clean makeup without harmful ingredients should be explored.
As clients are requesting a more natural, effective, long-lasting, natural-finish, clean makeup without harmful ingredients, makeup artists should do adequate research to make sure they choose the most suitable range of products.
Mineral Makeup
Many professionals consider mineral makeup as a healthy form of makeup for the skin as it usually contains clean, simple ingredients. Due to the nature of the natural ingredients used in mineral makeup, it is water-resistant, bonds with the skin, and is very long-lasting. Mineral makeup is generally light to wear and can be
formulated to be sheer or full-coverage. If the right formula is used, touching up the T-zone should not be necessary due to the oil-absorbing ingredients are in mineral makeup. This may not hold true for all mineral makeup, but is a general rule.
Mineral makeup in its purest form should be formulated with inorganic pigments that will not only nourish the skin but also protect it from the harmful rays of the sun. The pigments in mineral makeup are inert; therefore, there is a long shelf life, and loose powder does not require the addition of preservatives. The pressed variety may have preservatives, so loose powder is the recommended route.
Natural, mineral makeup can actually benefit skin. Many dermatologists and surgeons recommend the use of mineral makeup as it is gentle, healing, and natural. The inorganic pigments used in mineral makeup are non-comedogenic. Some are also anti-inflammatory and antimicrobial, so those prone to acne and rosacea will benefit from this type of makeup.
Application and Techniques
The key to a natural, healthy, glowing skin is first to protect it by using makeup without harmful ingredients. The second is application. At the commencement of this article, it was mentioned that on average, women use 60 percent more makeup than what is necessary. Depending on the type of makeup, application technique will vary. Liquid or cream makeups will use sponges or even the fingers, while powder or mineral makeup will most often use kabuki brushes. Regardless of the application method, makeup should be applied properly, never looking heavy, but instead giving off a natural, sheer radiance. The client's skin should be left with a diffused, flawless, and natural look.
Makeup has the opportunity to make a client feel good about the way they look. If a person feels good about the way they look, it can contribute to their overall well-being – emotionally and spiritually. When choosing a professional makeup line, the makeup artist needs to choose product wisely, preferably a makeup without harmful ingredients. Not all professional makeup is the same. Always follow the principle that less is more and choose a product with proven performance. Help put the client's best face forward in a healthy manner.
(Visited 196 times, 1 visits today)
Subscribe to our Youtube Channel :
Follow Us on Instagram