Hong Kong Airport Demonstrations Disrupt Business for Second Day
Flight check-in has been suspended at Hong Kong International Airport for a second consecutive day because of anti-government protests.
The airport, which is one of the world's busiest, has been the site of daily protests since Friday.
Videos on social media show passengers struggling to get through demonstrators, who have been sitting inside blocking departures.
The city's leader, Carrie Lam, earlier issued a fresh warning to protesters.
Ms Lam said Hong Kong had "reached [a] dangerous situation" and that violence during protests would push it "down a path of no return".
Mass unrest has rocked Hong Kong for 10 weeks and shows no signs of abating.
Despite the latest warnings from officials, crowds gathered at the airport again on Tuesday.
Images from inside appeared to show protesters using luggage trolleys to build barriers and some travellers becoming distressed and angered at the disruption.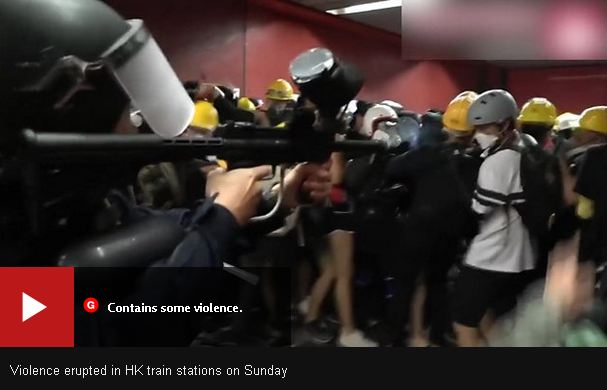 Hong Kong airport officials then announced that all check-ins were suspended from 16:30 local time (10:30 GMT).
In a statement on the airport's website, passengers were advised to leave the terminal buildings "as soon as possible".
It is unclear to what extent arrivals on Tuesday will be impacted.
Some airlines, including flagship airline Cathay Pacific, cancelled dozens of flights on Tuesday before the latest closures were announced.
Some protesters held signs apologising to passengers for the inconvenience caused by their demonstrations. Others wore eye bandages in solidarity with an injured protester and brandished slogans criticising the police's deepening crackdown.
Doctors at Hong Kong's Queen Elizabeth Hospital also staged a small sit-in protest opposing police violence on Tuesday, local media report.
Protests started in June in response to a proposed extradition bill, which has now been suspended, but have evolved into a more demanding pro-democracy movement.
Protests are fuelled by fear that the freedoms Hong Kong enjoys as a special administrative region of China are being eroded.
Source:BBC